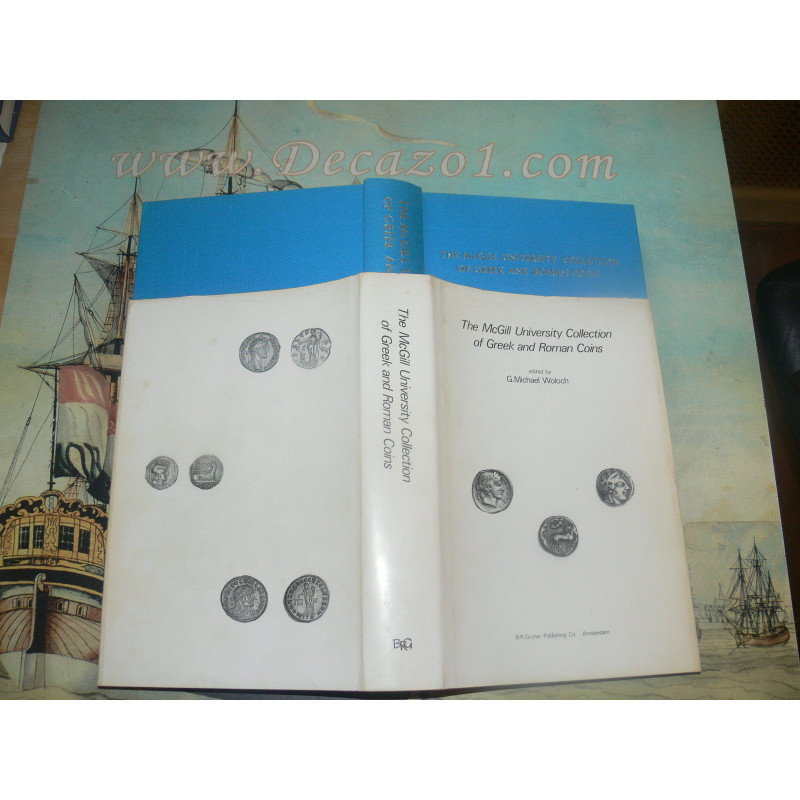  
Woloch, Michael - The McGill University Collection of Greek and Roman Coins
Michael Woloch
The McGill University Collection of Greek and Roman Coins
Vol. I. Roman Coins. by D.H.E.Whitehead.
Vol. II. Greek Gold and Silver Coins. by F.E. Shlosser.
Vol. III. Ancient Bronze Coins. by F.E. Shlosser.
Bound in 1 Volume
B.R. Gruner Publishing Company Amsterdam, 1985, Hardcover, V.I 239 p., 25 plates, V.II, 92 P,. 25 plates, V.III. 1479 p., 18 plates. As New
Security policy (edit with Customer reassurance module)

Delivery policy (edit with Customer reassurance module)

Return policy (edit with Customer reassurance module)
This catalogue of The McGill University Collection of Greek and Roman Coins brings together reprints of three volumes. The Roman catalogue of Volume I is by D.H.E. Whitehead (1975). Volume I also contains a Roman Supplement by Vivien Law and a short history of the collection by John Sullivan. Volume II (1975), by Prof. Shlosser, lists the gold and silver ancient Greek coins. The third and last volume (1984), also by Prof. Shlosser, contains the ancient Greek (including Judean and Indian) bronze coins and the Greek Imperials. Some silver coins are present. In Volume III are a Supplement by Louise Cass-Conrad of the Roman coins not in Volume I and Corrigenda to Volumes I and II. The volumes are richly illustrated with plates. The published collection consists of 1,763 coins, almost equally divided between Greek and Roman. This combined catalogue is unusual because so few university coin collections have ever been fully catalogued and published and is outstanding on account of its diversity. One may say that nearly all time periods and mints are represented. Study of the catalogue will be repaid with knowledge of examples of most kinds of ancient Greek and Roman coinage. The McGill Collection will be of interest to numismatists, including collectors, dealers and museum curators, as well as to historians of the ancient world.
Weight: 1.200 kg. (packaging included)
Combined shipping
After registration (Important) the system automatically calculates the thickness and weight of every letter and gives you the rate for your Country. (If the combined order becomes to thick or heavy for a registered letter by PostNL, you automaticly see the rate for a parcel in your shoppingcart.)
Shipping is based on a 2 kg registered letter/parcel by PostNL, up to 2 kg no extra shipping costs if the books fit in the same letter/parcel.
Europe only: If its cheaper, we ship with DPD parcels (A 10 kg parcel often costs a few Euros more as a 2 kg parcel by PostNL, the standard shipping company)  you will get a refund if you paid to much postage!
Shipping Refunds will be given by Bank or PayPal (The system cann't do this automatcally). Look for details under Shipping & Delivery in the Top Bar.
Combined shipping rules:
You have to combine all your purchases in one order, otherwise the system will see the purchases as seperate orders and start again with the basic rate for a 2 kg registered letter/parcel.
If you accidentally place more orders, we will recalculate the postage and give you a refund. We always ship for the lowest possible costs!
We ship Worldwide, if you cann't register or place your order, please contact us by e-mail:  decazo1@hotmail.com