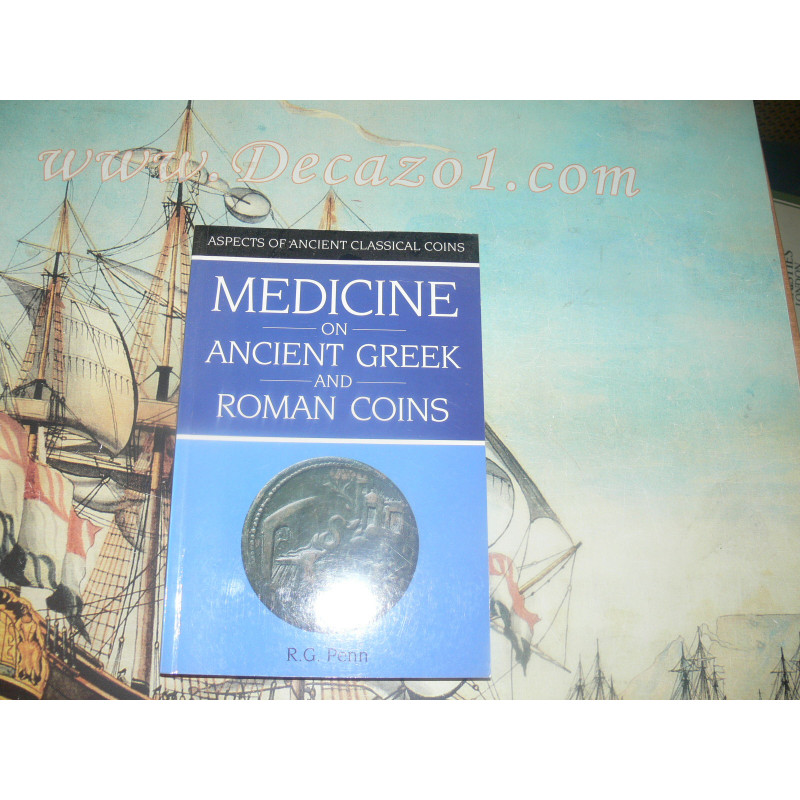  
Penn, R.G. - Medicine on Greek and Roman Coins
Penn, R.G.
Medicine on Greek and Roman Coins
Aspects of Ancient Classical Coins Series.
London. Seaby- Batsford Ltd. 1994. Softcover. vi + 186 p., including 7 black- and-white plates and 127 figures. 
Security policy (edit with Customer reassurance module)

Delivery policy (edit with Customer reassurance module)

Return policy (edit with Customer reassurance module)
Synopsis:
Health, both public and private, was as much a concern in antiquity as it is today, but in those days it did not have the advantage of the present media presentation. However there was a way that health, medicine and protection from all ills could be made evident to the populace in the world of Greece and Rome, and that was through the coinage. Asclepius (Aesculapius in his Latinized form) was the premier ancient God of medicine with many prominent shrines dedicated to his worship throughout the Mediterranean. The two most important were on the island of Kos and at Pergamum in Asia Minor. His figure often appears on coins of the classical world as the predominant type, or even sometimes quite small as a mint privy mark on the New Style tetradrachms of Athens. Other gods connected with healing, protection or aversion of ills, such as Apollo, are also frequent coin types. The temples themselves appear on some coins, with cities such as Pergamum having an extensive series of medically oriented coin types. Portraits of rulers often show them accurately, with indications of medical conditions such as goitre and other afflictions that could well have conditioned their everyday responses, and thereby the wheel of history. In this fascinating survey of medicine and its many aspects as revealed on ancient Greek and Roman coins, Dr Penn has produced a book that numismatists, historians and the medical profession alike will find both intriguing and informative.
Weight: 0.520 kg. (packaging included)
Combined shipping
After registration (Important) the system automatically calculates the thickness and weight of every letter and gives you the rate for your Country. (If the combined order becomes to thick or heavy for a registered letter by PostNL, you automaticly see the rate for a parcel in your shoppingcart.)
Shipping is based on a 2 kg registered letter/parcel by PostNL, up to 2 kg no extra shipping costs if the books fit in the same letter/parcel.
Europe only: If its cheaper, we ship with DPD parcels (A 10 kg parcel often costs a few Euros more as a 2 kg parcel by PostNL, the standard shipping company)  you will get a refund if you paid to much postage!
Shipping Refunds will be given by Bank or PayPal (The system cann't do this automatcally). Look for details under Shipping & Delivery in the Top Bar.
Combined shipping rules:
You have to combine all your purchases in one order, otherwise the system will see the purchases as seperate orders and start again with the basic rate for a 2 kg registered letter/parcel.
If you accidentally place more orders, we will recalculate the postage and give you a refund. We always ship for the lowest possible costs!
We ship Worldwide, if you cann't register or place your order, please contact us by e-mail:  decazo1@hotmail.com