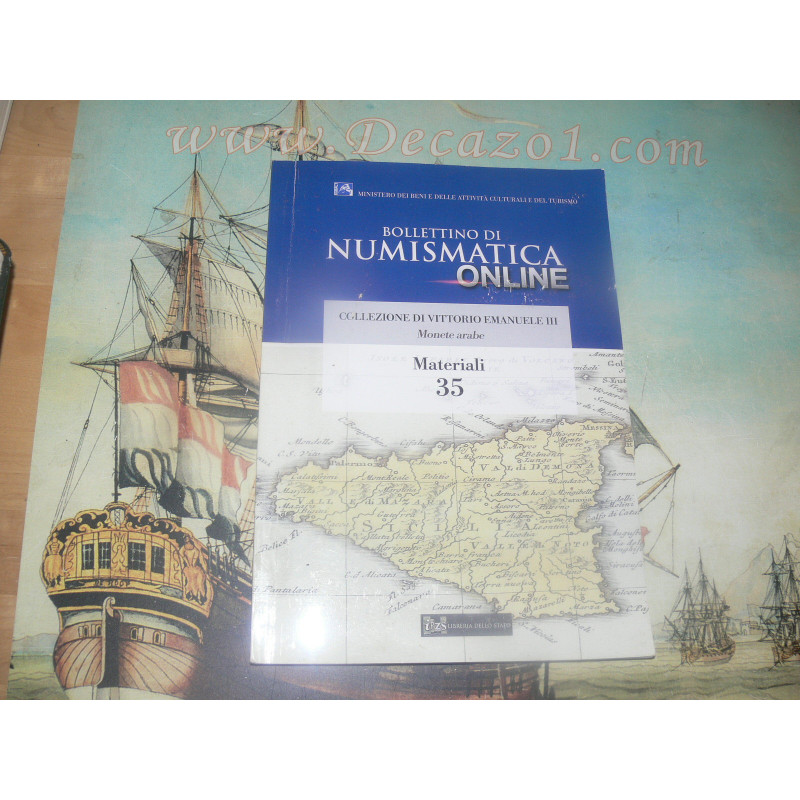  
D'Ottone Rambach, A.. Sicily Collezione di Vittorio Emanuele III - Monete arabe. Materiali 35
Arianna D'​Ottone Rambach.
Collezione di Vittorio Emanuele III
Monete arabe.
Materiali 35
Bullettinno di numismatica online.

Rome.  National Museum Romana. 2015. Softcover. 149 p., 80 coins, all illustrated.
For Condition, Index, and more details see photos.

Security policy
Decazo1 uses only functional & analytical cookies to navigate and improve the website.

Delivery policy
Items are shipped by PostNL or DPD with tracking or drop-off with signature.

Return policy
After delivery, 30 days (send email first) by registered mail. More Info in Shipping & Delivery
The Numismatic Bulletin, in the "Materials" series, is published by the State Library with the study of 80 Arab-Islamic specimens from the Vittorio Emanuele III Collection. The cataloging of the Arab-Islamic specimens in the collection of Vittorio Emanuele It broadens the framework of knowledge on the Arab coinage of Sicily and the mints related to it, sometimes with very rare pieces. The specimens of the Royal Collection published here contribute, in particular, to the knowledge of the chronology and typology of the Arab issues of Sicily.
 Il Bollettino di Numismatica, nella collana "Materiali", viene pubblicato dalla Libreria dello Stato con lo studio di 80 esemplari arabo-islamici della Collezione di Vittorio Emanuele III. La catalogazione degli esemplari arabo-islamici della collezione di Vittorio Emanuele III amplia il quadro delle conoscenze sulla monetazione araba di Sicilia e delle zecche ad essa correlate, talora con pezzi assai rari. Gli esemplari della Collezione Reale qui pubblicati concorrono, in particolare, alla conoscenza della cronologia e della tipologia delle emissioni arabe di Sicilia.
Weight: 0.830 kg. (packaging included)
Combined shipping
After registration (Important) the system automatically calculates the thickness and weight of every letter and gives you the rate for your Country. (If the combined order becomes to thick or heavy for a registered letter by PostNL, you automaticly see the rate for a parcel in your shoppingcart.)
Shipping is based on a 2 kg registered letter/parcel by PostNL, up to 2 kg no extra shipping costs if the books fit in the same letter/parcel.
Europe only: If its cheaper, we ship with DPD parcels (A 10 kg parcel often costs a few Euros more as a 2 kg parcel by PostNL, the standard shipping company)  you will get a refund if you paid to much postage!
Shipping Refunds will be given by Bank or PayPal (The system cann't do this automatcally). Look for details under Shipping & Delivery in the Top Bar.
Combined shipping rules:
You have to combine all your purchases in one order, otherwise the system will see the purchases as seperate orders and start again with the basic rate for a 2 kg registered letter/parcel.
If you accidentally place more orders, we will recalculate the postage and give you a refund. We always ship for the lowest possible costs!
We ship Worldwide, if you cann't register or place your order, please contact us by e-mail:  decazo1@hotmail.com