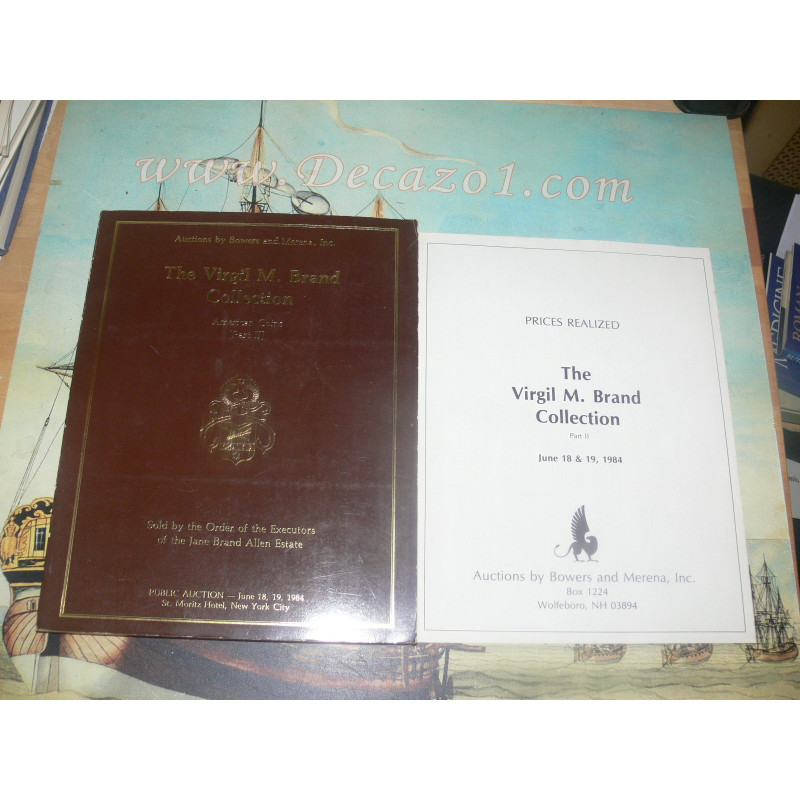  
Brand (Virgil M.) collection Bowers & Merena- Part 2 - American Coins (Early + California Gold) RP List.
Bowers & Merena Inc.
The Virgil M Brand collection
 American Coins Part II (Early + California Gold & Medals)
( Very rare top quality and sometimes unique)
Bowers & Merena Inc, New York, 18/19-06-1984, Softcover, 684 lots, Illustrations ( often with enlargements) in text and 15 plates.
Realized prices list.
For Condition, Index, and more details see photos.
Security policy (edit with Customer reassurance module)

Delivery policy (edit with Customer reassurance module)

Return policy (edit with Customer reassurance module)
The collection Virgil M. Brand collected from 1889-1926 was one of the largest in the World, with more than 300.000 coins.
In this catalog are 684 very rare early American Coins and Medals.
With coins from almost evey important sale of the time.
In deze catalogus staan munten uit bijna alle belangrijke  veilingen en verzamelingen van het begin van de 20e Eeuw.
De Virgil M. Brand collectie, verzameld in de periode 1889-1926 was een der grootste ter Wereld met meer dan 300.000 munten. Deze catalogus bevat 684 lots met zeer zeldzame oude Amerikaanse munten en medailles.
Virgil M. Brand (erfgenaam van de Brand bierbrouwerijen in Chicago), kocht al in de jaren twintig van de vorige eeuw uiterst zeldzame munten bij de firma Schulman en andere Europese veilinghuizen. Een unieke collectie.
Weight: 0.690 kg. (packaging included)
Combined shipping
After registration (Important) the system automatically calculates the thickness and weight of every letter and gives you the rate for your Country. (If the combined order becomes to thick or heavy for a registered letter by PostNL, you automaticly see the rate for a parcel in your shoppingcart.)
Shipping is based on a 2 kg registered letter/parcel by PostNL, up to 2 kg no extra shipping costs if the books fit in the same letter/parcel.
Europe only: If its cheaper, we ship with DPD parcels (A 10 kg parcel often costs a few Euros more as a 2 kg parcel by PostNL, the standard shipping company)  you will get a refund if you paid to much postage!
Shipping Refunds will be given by Bank or PayPal (The system cann't do this automatcally). Look for details under Shipping & Delivery in the Top Bar.
Combined shipping rules:
You have to combine all your purchases in one order, otherwise the system will see the purchases as seperate orders and start again with the basic rate for a 2 kg registered letter/parcel.
If you accidentally place more orders, we will recalculate the postage and give you a refund. We always ship for the lowest possible costs!
We ship Worldwide, if you cann't register or place your order, please contact us by e-mail:  decazo1@hotmail.com