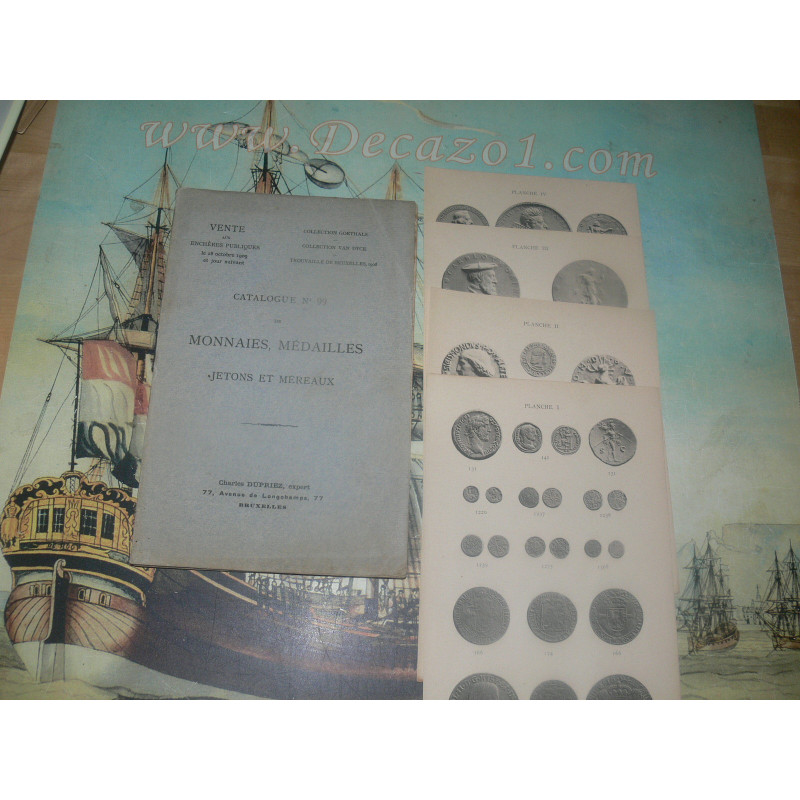  
DUPRIEZ, Ch. Bruxelles. 1909-10 (99). Monnaies, médailles, jetons et méreaux. Brussels Hoard. Colls. Goethals, Courtrai
CH. DUPRIEZ, Auktion vom 28.-29.10.1909, Brüssel [A. Nueman].
Catalogue No. 99 de
Monnaies, médailles, jetons et méreaux
Collection de feu M. Goethals, de Courtrai, collection de feu M. van Dyck, de Bruxelles,
Trouvaille de Bruxelles (Brussels Hoard), 1908.
54 S. 4 Tfn. 1372 Nrn. Orig.-Broschur. (54 pp., 1372 lots, 4 Plates !!)

For Condition, Index, and more details see photos.

Security policy
Decazo1 uses only functional & analytical cookies to navigate and improve the website.

Delivery policy
Items are shipped by PostNL or DPD with tracking or drop-off with signature.

Return policy
After delivery, 30 days (send email first) by registered mail. More Info in Shipping & Delivery
Catalogue DUPRIEZ, Ch. Bruxelles. 1909-10 (99). Monnaies, médailles, jetons et méreaux. Brussels Hoard. Collections. Goethals, de Courtrai & van Dyck. With 4 Plates. (Complete!)
The last photo is from: Churchill & Thomas: The Brussels Hoard of 1908. The Long Cross Coinage of Henry III. (1247-1267) not included, but available in my store!
In the early 20th century, printing plates in lithography was very expensive. Auctioneers often sent catalogs without plates for free, you had to pay for catalogs with plates!!!
Most collectors who could come and see for themselves chose the free catalogs, which is why catalogs with plates from this period are much rarer.
Charles Dupriez let the collector pay 1 franc, Mk (Mark) 0.80 or 10 d. (pence) extra for the catalog with plates.
Even Bernard Poinsignon only had a copy without plates of this catalogue in his library!
Künker eLive Premium Auction 357
Die Numismatic Bibliothek Alain Poinsignon, Straßburg Teil 3
Lot 3338 proceeds Euro 250.00 + 25% premium = Euro 312.50  (catalogue without plates)
In het begin van de 20e Eeuw was het afdrukken van platen in steendruk erg duur.
Veilinghouders stuurden catalogi zonder platen vaak gratis op, voor catalogi met platen moest betaald worden!
De meesten verzamelaars die zelf konden komen kijken kozen voor de gratis catalogi, daarom zijn catalogi met platen uit deze periode veel zeldzamer.
Bij Charles Dupriez moest de verzamelaar  1 franc, Mk (Mark) 0.80 of 10 d. (pence) extra betalen voor de catalogus met platen.
Zelfs Bernard Poinsignon had in zijn Bibliotheek alleen een exemplaar zonder platen van deze catalogus!
Künker eLive Premium Auction 357 
Die numismatische Bibliothek Alain Poinsignon, Straßburg Teil 3
Lot 3338 opbrengst Euro 250.00 + 25 % opgeld = Euro 312.50 (catalogus zonder platen)
Weight: 0.250 kg. (packaging included)
Combined shipping
After registration (Important) the system automatically calculates the thickness and weight of every letter and gives you the rate for your Country. (If the combined order becomes to thick or heavy for a registered letter by PostNL, you automaticly see the rate for a parcel in your shoppingcart.)
Shipping is based on a 2 kg registered letter/parcel by PostNL, up to 2 kg no extra shipping costs if the books fit in the same letter/parcel.
Europe only: If its cheaper, we ship with DPD parcels (A 10 kg parcel often costs a few Euros more as a 2 kg parcel by PostNL, the standard shipping company)  you will get a refund if you paid to much postage!
Shipping Refunds will be given by Bank or PayPal (The system cann't do this automatcally). Look for details under Shipping & Delivery in the Top Bar.
Combined shipping rules:
You have to combine all your purchases in one order, otherwise the system will see the purchases as seperate orders and start again with the basic rate for a 2 kg registered letter/parcel.
If you accidentally place more orders, we will recalculate the postage and give you a refund. We always ship for the lowest possible costs!
We ship Worldwide, if you cann't register or place your order, please contact us by e-mail:  decazo1@hotmail.com