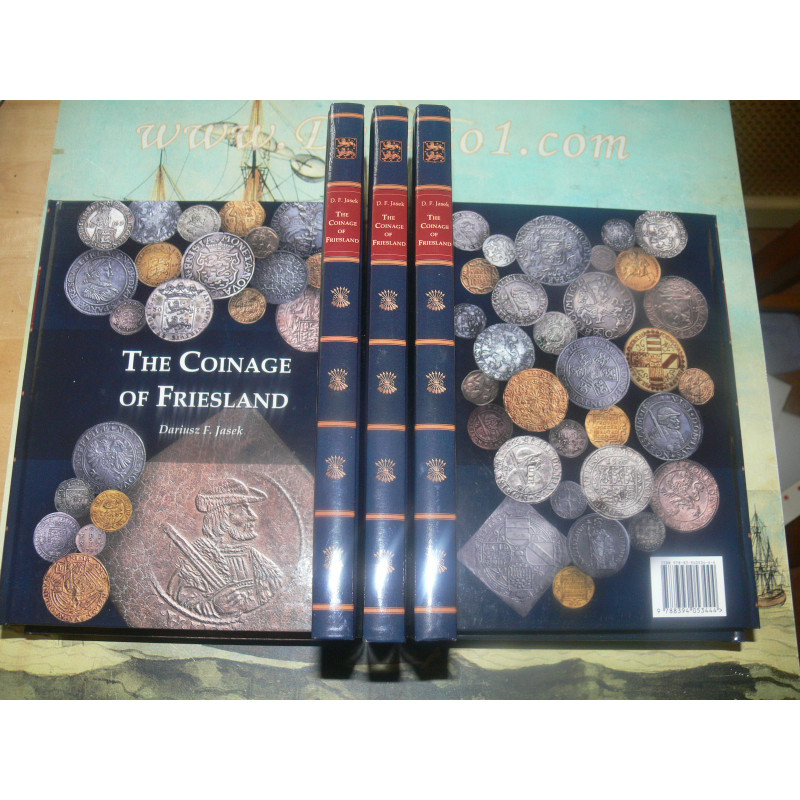  
Dariusz F. Jasek – The Coinage of Friesland. De munten van Friesland 1580-1738 English Text!
Dariusz F. Jasek, Editor  Etjen Vincani
The Coinage of Friesland.
De munten van Friesland 1580-1738
English Text.  
Krakov, Polen. Knight Press. 2020. First Edition. Hardcover, 180 p. A5 (9.44″ x 6.69″)
For Condition, Index, and more details see photos.

Security policy
Decazo1 uses only functional & analytical cookies to navigate and improve the website.

Delivery policy
Items are shipped by PostNL or DPD with tracking or drop-off with signature.

Return policy
After delivery, 30 days (send email first) by registered mail. More Info in Shipping & Delivery
The first specialized book on the Friesland coinage, published after  years of research, queries in museums, private collections and numerous library collections.
Introduction by the outstanding, late numismatist from Friesland Jille B. Westerhof. an expert on Frisian coinage with 50 years of experience.
Contents:
History and coinage of Friesland from its beginning until the closure of the mint in 1752, incl. historical background of individual mint buildings up to modern times.
The temporary Friesland Mint in Reiderschans. (1591-1594), relatively unknown in numismatic literature, is treated extensively.
In addition, full information about the mint staff – mintmasters, die sinkers, wardens and assayers – is also provided.
The coin catalog (128 p.) includes a total of 116 types of Friesland coins minted in 1580-1738, from gold to copper.
The book includes several dozen previously unpublished photos, printed in photographic quality. For each coin type all varieties known by the author are listed.
Het eerste gespecialiseerde boek over de Friese munten, gepubliceerd na jarenlang onderzoek,  in musea, privécollecties en talloze bibliotheekcollecties.
Introductie door de bekende, overleden Friese numismaat Jille B. Westerhof. De expert in Friese munten met 50 jaar ervaring, die meegewerkt heeft aan dit boek.
Inhoud:
Geschiedenis en munten van Friesland vanaf het begin tot de sluiting van de munt in 1752, incl. historische achtergrond van individuele muntgebouwen tot de moderne tijd.
  Ook de tijdelijke Friese Munt in Reiderschans. (1591-1594), relatief onbekend in de numismatische literatuur, wordt uitgebreid behandeld.
Daarnaast wordt ook volledige informatie over het muntpersoneel - muntmeesters, stempel snijders, bewakers en keurmeesters - verstrekt.
De muntencatalogus (128 p.) Bevat in totaal 116 soorten Friese munten die in 1580-1738 zijn geslagen, van goud tot koper.
Het boek bevat enkele tientallen eerder niet-gepubliceerde foto's, gedrukt in fotografische kwaliteit. Voor elk munttype worden alle door de auteur bekende variëteiten vermeld. 
Weight: 0.750 kg. (packaging included)
Combined shipping
After registration (Important) the system automatically calculates the thickness and weight of every letter and gives you the rate for your Country. (If the combined order becomes to thick or heavy for a registered letter by PostNL, you automaticly see the rate for a parcel in your shoppingcart.)
Shipping is based on a 2 kg registered letter/parcel by PostNL, up to 2 kg no extra shipping costs if the books fit in the same letter/parcel.
Europe only: If its cheaper, we ship with DPD parcels (A 10 kg parcel often costs a few Euros more as a 2 kg parcel by PostNL, the standard shipping company)  you will get a refund if you paid to much postage!
Shipping Refunds will be given by Bank or PayPal (The system cann't do this automatcally). Look for details under Shipping & Delivery in the Top Bar.
Combined shipping rules:
You have to combine all your purchases in one order, otherwise the system will see the purchases as seperate orders and start again with the basic rate for a 2 kg registered letter/parcel.
If you accidentally place more orders, we will recalculate the postage and give you a refund. We always ship for the lowest possible costs!
We ship Worldwide, if you cann't register or place your order, please contact us by e-mail:  decazo1@hotmail.com