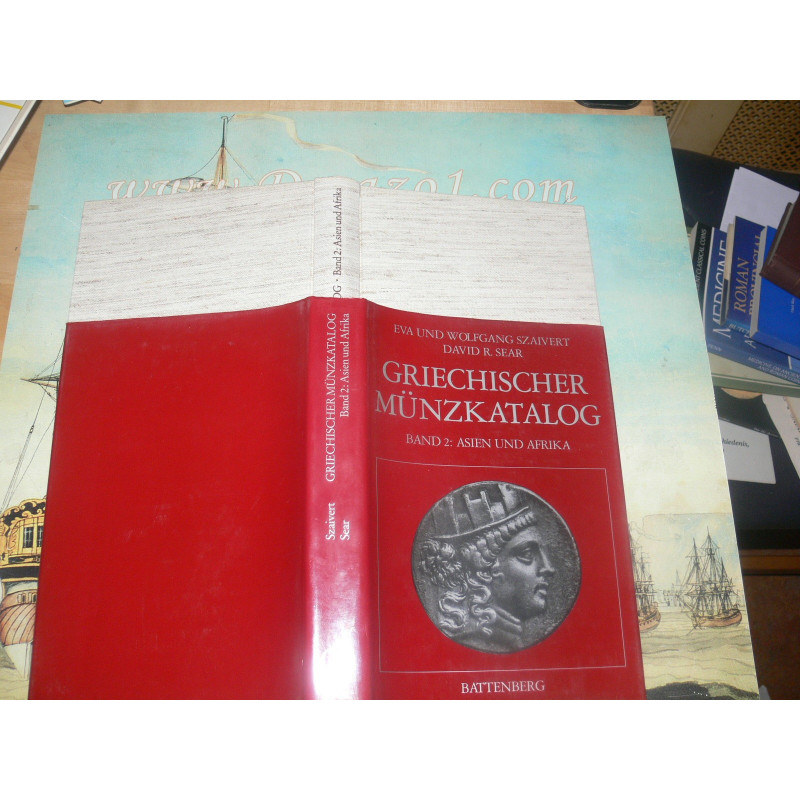  
Szaivert, Eva and Wolfgang - Sear David R. – Griechischer Munzkatalog. Band 2- Asien und Afrika.
Sear, David R., Szaivert, Eva and Wolfgang (Übersetzung)
Griechischer Munzkatalog.
Band 2: Asien und Afrika.
Munchen, Battenberg Verlag. 1983 Hardcover. First Edition. 476 Seiten.
Keine wörtliche Übersetzung, aber völlig neue Arbeit, ein verbessertes übersichtliches System, mit viele Ergänzungen.
For Condition, Index, and more details see photos.
Security policy (edit with Customer reassurance module)

Delivery policy (edit with Customer reassurance module)

Return policy (edit with Customer reassurance module)
(416 Katalogseiten plus 58 Seiten einleitende Artikel usw 445 Katalogseiten, 48 Seiten mit einleitenden Artikeln, 11 Karten; Tabelle der alten Alphabete; 4.560 Münzsorten mit Bewertungen katalogisiert; fast 2.000 fotografische Illustrationen (von P. Frank Purvey) im Text.
Der zweite Band dieses Katalogs befasst sich mit den Ausgaben von Mints in Kleinasien (einschließlich der Inseln und Zypern), Syriens, Phöniziens, Palästinas (einschließlich jüdischer Münzen der Hasmonaean-Dynastie), Arabiens, Mesopotamiens und anderer ägyptischer Regionen , Cyrenaica und anderen Regionen Nordafrikas (einschließlich Karthago); Ebenfalls abgedeckt sind die Prägungen der hellenistischen Monarchien (Makedonien, Thrakien, Seleukiden von Syrien, Ptolemäer in Ägypten, Pergamum, Pontus, Bithynien, Kappadokien, Armenien, Parthien, Baktrien und Indo-Griechen). Die Hauptvereinbarung ist geographisch (im Uhrzeigersinn um das Mittelmeerbecken) und die Listen für Kleinasien sind zwischen archaischen Ausgaben (vor ca. 480 v. Chr.) Und klassischen und hellenistischen (später 5. Jahrhundert bis 1. Jahrhundert v. Chr.) Unterteilt. Obwohl nicht ein vollständiger Katalogsammler in der Lage sein sollte, die meisten Münzen, auf die sie wahrscheinlich stoßen werden, in der einen oder anderen Bezeichnung zu lokalisieren, und die historischen Notizen liefern wertvolle Hintergrundinformationen.
Weight: 1.350 kg. (packaging included)
Combined shipping
After registration (Important) the system automatically calculates the thickness and weight of every letter and gives you the rate for your Country. (If the combined order becomes to thick or heavy for a registered letter by PostNL, you automaticly see the rate for a parcel in your shoppingcart.)
Shipping is based on a 2 kg registered letter/parcel by PostNL, up to 2 kg no extra shipping costs if the books fit in the same letter/parcel.
Europe only: If its cheaper, we ship with DPD parcels (A 10 kg parcel often costs a few Euros more as a 2 kg parcel by PostNL, the standard shipping company)  you will get a refund if you paid to much postage!
Shipping Refunds will be given by Bank or PayPal (The system cann't do this automatcally). Look for details under Shipping & Delivery in the Top Bar.
Combined shipping rules:
You have to combine all your purchases in one order, otherwise the system will see the purchases as seperate orders and start again with the basic rate for a 2 kg registered letter/parcel.
If you accidentally place more orders, we will recalculate the postage and give you a refund. We always ship for the lowest possible costs!
We ship Worldwide, if you cann't register or place your order, please contact us by e-mail:  decazo1@hotmail.com