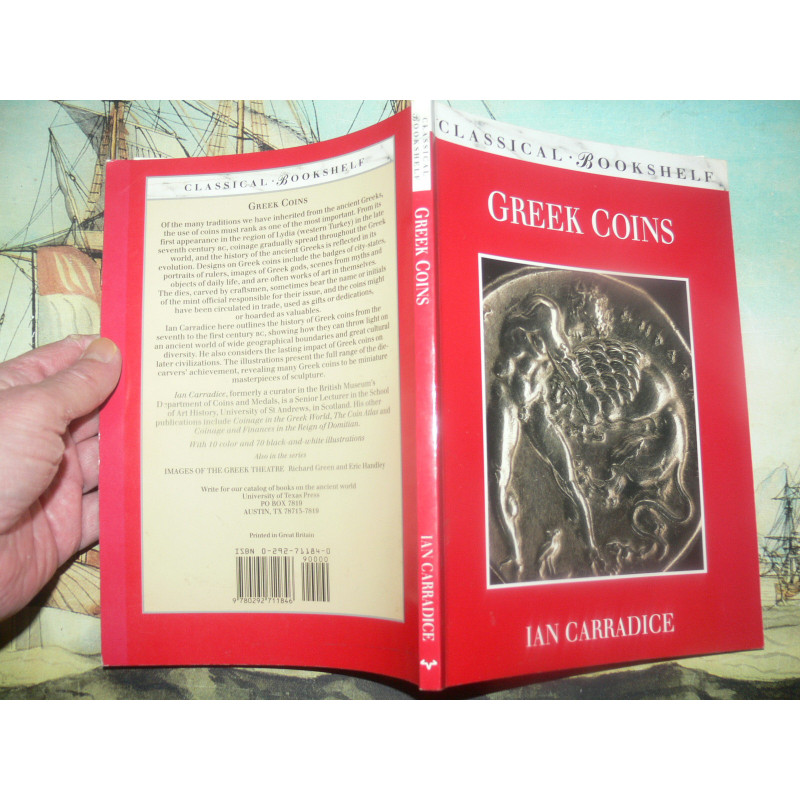  
Carradice, Ian - Greek Coins (Classical Bookshelf Edition)
Carradice, Ian 
Greek Coins Edition
Classical Bookshelf Edition

University of Texas. London British Museum Press 1995 Softcover 112 p.  10 colour and 70 b&w illustrations, 3 maps, further reading list, index. Intended for college/higher education audience.  
For Condition, Index, and more details see photos.


Security policy
Decazo1 uses only functional & analytical cookies to navigate and improve the website.

Delivery policy
Items are shipped by PostNL or DPD with tracking or drop-off with signature.

Return policy
After delivery, 30 days (send email first) by registered mail. More Info in Shipping & Delivery
Of the many traditions inherited from the ancient Greeks, one of the most successful has been the use of coined metal as money. Coins first appeared in the region of Lydia (western Turkey) in the late seventh century B.C. and gradually spread throughout the Greek world. Coin designs show the badges of city-states, the portraits of rulers, Greek gods, myths, and objects of daily life. Carved by Greek craftsmen, some of the designs are works of art, miniature masterpieces of sculpture. Coins were circulated in trade, used as gifts or dedications, and hoarded as valuables. They were part of the fabric of Greek life, and those that now survive provide a physical link between the modern world and the ancient Greeks. Ian Carradice outlines the history of Greek coins from the seventh to the first centuries B.C., showing how they reveal a world that has both wide geographical boundaries and great cultural diversity. He also considers the lasting impact of Greek coins on later civilizations.
Weight: 0.350 kg. (packaging included)
Combined shipping
After registration (Important) the system automatically calculates the thickness and weight of every letter and gives you the rate for your Country. (If the combined order becomes to thick or heavy for a registered letter by PostNL, you automaticly see the rate for a parcel in your shoppingcart.)
Shipping is based on a 2 kg registered letter/parcel by PostNL, up to 2 kg no extra shipping costs if the books fit in the same letter/parcel.
Europe only: If its cheaper, we ship with DPD parcels (A 10 kg parcel often costs a few Euros more as a 2 kg parcel by PostNL, the standard shipping company)  you will get a refund if you paid to much postage!
Shipping Refunds will be given by Bank or PayPal (The system cann't do this automatcally). Look for details under Shipping & Delivery in the Top Bar.
Combined shipping rules:
You have to combine all your purchases in one order, otherwise the system will see the purchases as seperate orders and start again with the basic rate for a 2 kg registered letter/parcel.
If you accidentally place more orders, we will recalculate the postage and give you a refund. We always ship for the lowest possible costs!
We ship Worldwide, if you cann't register or place your order, please contact us by e-mail:  decazo1@hotmail.com