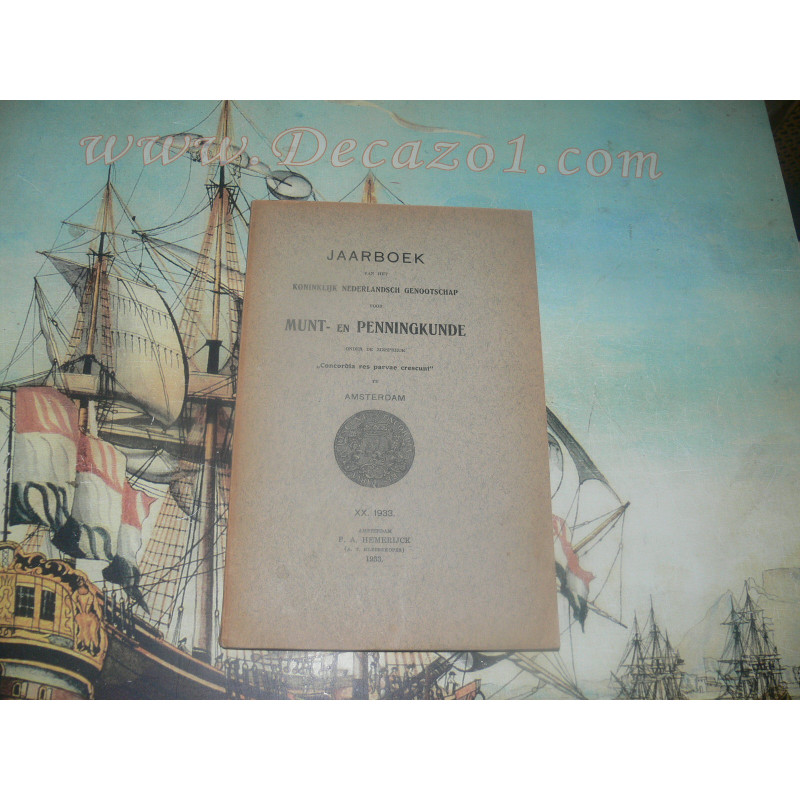  
1933 (20) Jaarboek van het Koninklijk Nederlands Genootschap voor Munt- en Penningkunde.
Jaarboek van het Koninklijk Nederlands Genootschap voor Munt- en Penningkunde te Amsterdam.

1933 (20)
Original printed cardcover, 120 p., X. plates.
A pdf file is available (Only in cobination with the book) With copy and paste and Google translate you can translate the articles in your own language.
For Index and Photos.see description below.


Security policy
Decazo1 uses only functional & analytical cookies to navigate and improve the website.

Delivery policy
Items are shipped by PostNL or DPD with tracking or drop-off with signature.

Return policy
After delivery, 30 days (send email first) by registered mail. More Info in Shipping & Delivery
Index
De geschiedenis der koningen van Bactrië en Indië uit hunne munten opgehelderd, door Prof. R. FRUIN 1
Twee stempels voor een valschen Gelderschen Rijksdaalder van 1661 uit het Stedelijk Museum te Torun (Thorn, Poznan = Polen), door EDMUND MAJKOWSKI 25
De Staten van Zeeland .besluiten 19 November 1576, dat tgelt zal gestelt werden op zijn gewichte, en hoe men te Veere daarmede handelde, door Mej. M. G. A. DE MAN 33
Aanvullingen op: Ridderorden, Eereteekenen, Draagteekens en Penningen, betreffende de Weermacht van Nederland en Koloniën (1813—heden), door Dr. W. F. BAX 46
Een onbekende brandspuitpenning van Zierikzee, door Mr. ERNST POLAK 54
De geldbeurs en andere receptacula nummorum bij Grieken en Romeinen, door Dr. M. A. EVELELN . 58
De Hoornsche loterij penning van 1701, door ANDRÉ SCHULMAN 82
Korte Bijdragen 86
I. Een onbekende dukaat van Saksen-Gotha.
II. Schat van 50 aurei gevonden te Utrecht.
III. De nagedachtenis van een Nederlander in Amerika gehuldigd.
IV. De begrafenispenning van het kuipersgilde te Amsterdam.
V. Gedenkpenning ter eere van JEAN FRANÇOIS CHAMPOLLION le Jeune.
VI. Noodmunten van Breda van 1577.
Prijsvraag Muntkunde van TEYLER'S Tweede Genootschap te Haarlem voor het jaar 1934 97
Boekbespreking 100
Verslag van den Secretaris 104
Verslag van den Conservator der numismatische verzameling en bibliotheek 110
Ledenlijst 112
Photos are provided for better insight in the content. Its impossible to renew them for every copy. The content is always clean and free of writings.
Book only, the coins are only pictures.
Weight 0.500 kg (packaging included)
Combined shipping
After registration (Important) the system automatically calculates the thickness and weight of every letter and gives you the rate for your Country. (If the combined order becomes to thick or heavy for a registered letter by PostNL, you automaticly see the rate for a parcel in your shoppingcart.)
Shipping is based on a 2 kg registered letter/parcel by PostNL, up to 2 kg no extra shipping costs if the books fit in the same letter/parcel.
Europe only: If its cheaper, we ship with DPD parcels (A 10 kg parcel often costs a few Euros more as a 2 kg parcel by PostNL, the standard shipping company)  you will get a refund if you paid to much postage!
Shipping Refunds will be given by Bank or PayPal (The system cann't do this automatcally). Look for details under Shipping & Delivery in the Top Bar.
Combined shipping rules:
You have to combine all your purchases in one order, otherwise the system will see the purchases as seperate orders and start again with the basic rate for a 2 kg registered letter/parcel.
If you accidentally place more orders, we will recalculate the postage and give you a refund. We always ship for the lowest possible costs!
We ship Worldwide, if you cann't register or place your order, please contact us by e-mail:  decazo1@hotmail.com