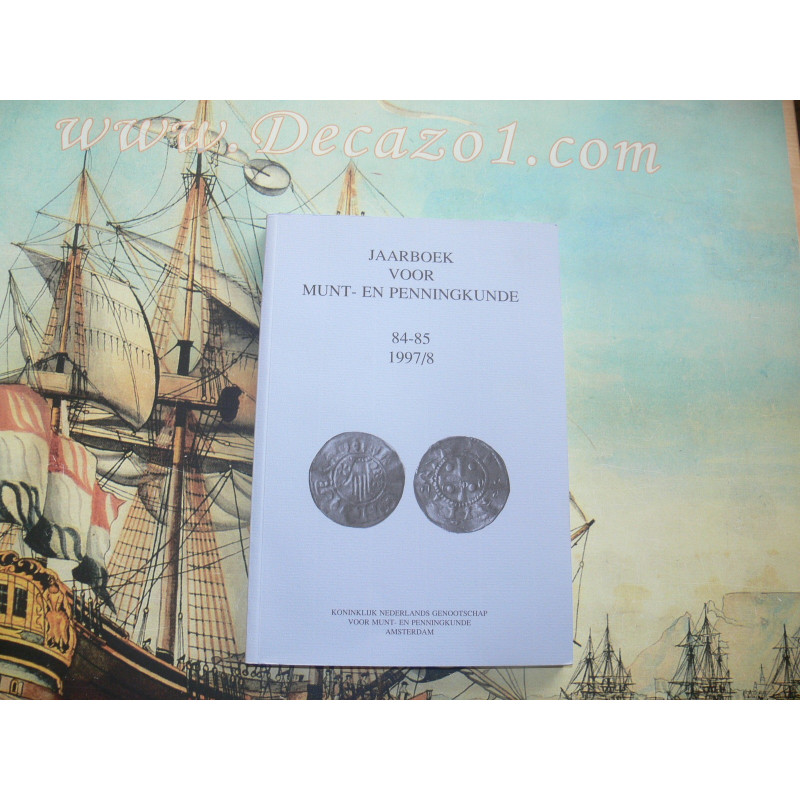  
1997-98 (84-85) Jaarboek van het Koninklijk Nederlands Genootschap voor Munt- en Penningkunde. Peter Ilisch
Jaarboek van het Koninklijk Nederlands Genootschap voor Munt- en Penningkunde te Amsterdam.
1997-98 (84-85)
Peter Ilisch - DIE MÜNZPRÄGUNG IM HERZOGTUM NIEDERLOTHRINGEN
1: DIE MÜNZPRÄGUNG IN DEN RÄUMEN UTRECHT UND FRIESLAND IM 10. UND 11. JAHRHUNDERT
Original printed cardcover, 219 p., illustrations in text, see Photos.
For Index see description below.


Security policy
Decazo1 uses only functional & analytical cookies to navigate and improve the website.

Delivery policy
Items are shipped by PostNL or DPD with tracking or drop-off with signature.

Return policy
After delivery, 30 days (send email first) by registered mail. More Info in Shipping & Delivery
Die Münzprägung im Hertogtum Niederlotharingen is out of print for a long time, Decazo1 has found a few copies  New! from old dealerstock. Limited availabillity!!!
Index
Einführung 1
Berücksichtigte Sammlungen 3
Ausgangspunkt 4
Export in das Ausland 4
Ausbreitung der Münzprägung 6
Währungslandschaften 7
Königtum und Münzen 10
Schriftlichkeit 11
Abkürzungen 111. DEVENTER . 13
1.1-11 Münzprägungen der Könige und Kaiser 14
1.12-33 Münzprägungen der Bischöfe von Utrecht 29
2. HAMALAND 43
2.1-5 Prägungen der Gräfin Adela 43
2.6 Geistliche Münzstätte 47
3. TIEL 49
3.1-37 Prägungen der Könige und Kaiser 50
4-6. UMKREIS VON TIEL 75
4.1-18 Geistliche Imitativmünzstätte (Zaltbommel?) 75
5.1-6 Colonia-Typen 87
5.7-11 Gruppe mit L in Art eines kopfstehenden Thorshammers 92
6.1-5 Colonia-Typen mit 'Sanduhren' und Königsbildern des
Tieler Typs 97
7. DORESTAD — WIJK BIJ DUURSTEDE 1018-9. UNBESTIMMTE MÜNZSTÄTTE(N) 105
8.1-25 Raum Nijmegen-Tiel — Colonia-Typen mit Dreieckskeilen
105
9.1-4 Östliche Niederlande 121
9.5-11 Westliche oder Nördliche Niederlande 123
10. UTRECHT 131
10.1-2 Prägungen der Könige 131
10.3-33 Prägungen der Bischöfe 132
11. RIJNSBURG 153
11.1-2 Mitte des 11. Jahrhunderts 153
12. LEIDEN 157
12.1-9 Prägungen des Grafen Floris I. von Holland 157
13. VL AARDINGEN 163
13.1-7 Prägungen der Grafen von Holland 16314. MÜNZSTÄTTE DER GRAFEN VON HOLLAND? 169
15. KÖNIGLICHE MÜNZSTÄTTE IN NACHBARSCHAFT ZU
HOLLAND? 177
16. HERZOGLICHE MÜNZSTÄTTE IN NACHBARSCHAFT ZU
DEN GRAFEN VON HOLLAND? 179
17. UNBESTIMMTE MÜNZSTÄTTE(N) IM RAUM UTRECHT.. 183
18. GRONINGEN 187
18.1-24 Prägungen der Bischöfe von Utrecht 187
19. UNBESTIMMTE MÜNZEN 20520-23. FRIESLAND 209
20 Unbestimmte Münzstätte 209
21 Münzstätten der Brunonen 221
22 Prägungen Ekberts nach dem Tode Bruns 239
23 Prägungen nach den Brunonen 249
23.1-12 Weltliche Prägung 249
23.13-20 Bischöflich Utrechtsche Prägung 256
24. 'MERE' 263
24.1-6 Prägungen des Herzogs Godfried III 264
Literatur 269
Book only, the coins are only pictures.
Weight 0.450 kg (packaging included)
Combined shipping
After registration (Important) the system automatically calculates the thickness and weight of every letter and gives you the rate for your Country. (If the combined order becomes to thick or heavy for a registered letter by PostNL, you automaticly see the rate for a parcel in your shoppingcart.)
Shipping is based on a 2 kg registered letter/parcel by PostNL, up to 2 kg no extra shipping costs if the books fit in the same letter/parcel.
Europe only: If its cheaper, we ship with DPD parcels (A 10 kg parcel often costs a few Euros more as a 2 kg parcel by PostNL, the standard shipping company)  you will get a refund if you paid to much postage!
Shipping Refunds will be given by Bank or PayPal (The system cann't do this automatcally). Look for details under Shipping & Delivery in the Top Bar.
Combined shipping rules:
You have to combine all your purchases in one order, otherwise the system will see the purchases as seperate orders and start again with the basic rate for a 2 kg registered letter/parcel.
If you accidentally place more orders, we will recalculate the postage and give you a refund. We always ship for the lowest possible costs!
We ship Worldwide, if you cann't register or place your order, please contact us by e-mail:  decazo1@hotmail.com