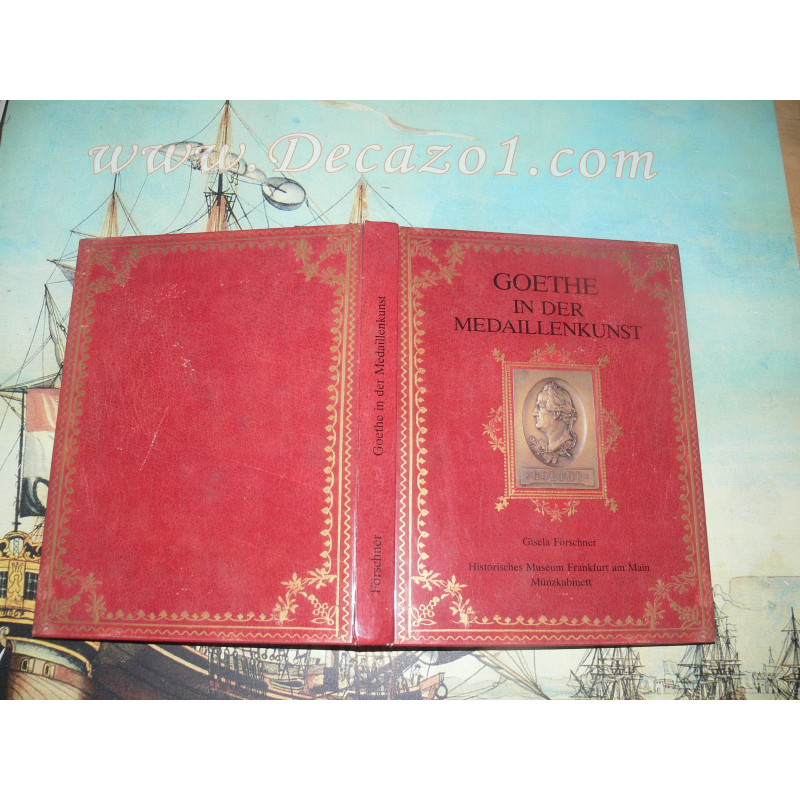  
Förschner, Gisela: Goethe in der Medaillenkunst. Historisches Museum Frankfurt
Förschner, Gisela
Goethe in der Medaillenkunst.
Historisches Museum Frankfurt
Melsungen. Verl. Gutenberg.1982, Hardcover 343P.
Hervorragend gestalteter Ausstellungskatalog mit genauen Angaben zu Künstlern, Größe, Material und Herstellungsjahr der einzelnen Medaillen.
For Condition, Index, and more details see photos.

Security policy
Decazo1 uses only functional & analytical cookies to navigate and improve the website.

Delivery policy
Items are shipped by PostNL or DPD with tracking or drop-off with signature.

Return policy
After delivery, 30 days (send email first) by registered mail. More Info in Shipping & Delivery
Kleine Schriften des Historischen Museums Frankfurt am Main Bd. 16
"Da dem Münzkabinett, wie kaum einer anderen Sammlung, eine einzigartige Auswahl von Variationen des Goethebildnisses zur Verfügung steht, sollen die über 600 Medaillen und Plaketten ausgestellt und in einem Katalog aufgearbeitet werden. Endsprechend der Altersstufen des Dargestellten steht am Anfang der jugendliche Goethe mit Zopffrisur. Das Bildnis des weisen Goethe folgt dem reifen Goethe. Den Abschluß bildet Goethe auf dem Totenbett. Selbst Modelle für Medaillen in Wachs und Gips, auch Erstfassungen und Entwürfe werden verzeichnet. Vorder und Rückseite der Objekte stehen sich gegenüber, die Abbildungen sind im Maßstab 1:1 wiedergegeben"(Vorwort).
Weight: 0.910 kg (packaging included)
Combined shipping
After registration (Important) the system automatically calculates the thickness and weight of every letter and gives you the rate for your Country. (If the combined order becomes to thick or heavy for a registered letter by PostNL, you automaticly see the rate for a parcel in your shoppingcart.)
Shipping is based on a 2 kg registered letter/parcel by PostNL, up to 2 kg no extra shipping costs if the books fit in the same letter/parcel.
Europe only: If its cheaper, we ship with DPD parcels (A 10 kg parcel often costs a few Euros more as a 2 kg parcel by PostNL, the standard shipping company)  you will get a refund if you paid to much postage!
Shipping Refunds will be given by Bank or PayPal (The system cann't do this automatcally). Look for details under Shipping & Delivery in the Top Bar.
Combined shipping rules:
You have to combine all your purchases in one order, otherwise the system will see the purchases as seperate orders and start again with the basic rate for a 2 kg registered letter/parcel.
If you accidentally place more orders, we will recalculate the postage and give you a refund. We always ship for the lowest possible costs!
We ship Worldwide, if you cann't register or place your order, please contact us by e-mail:  decazo1@hotmail.com