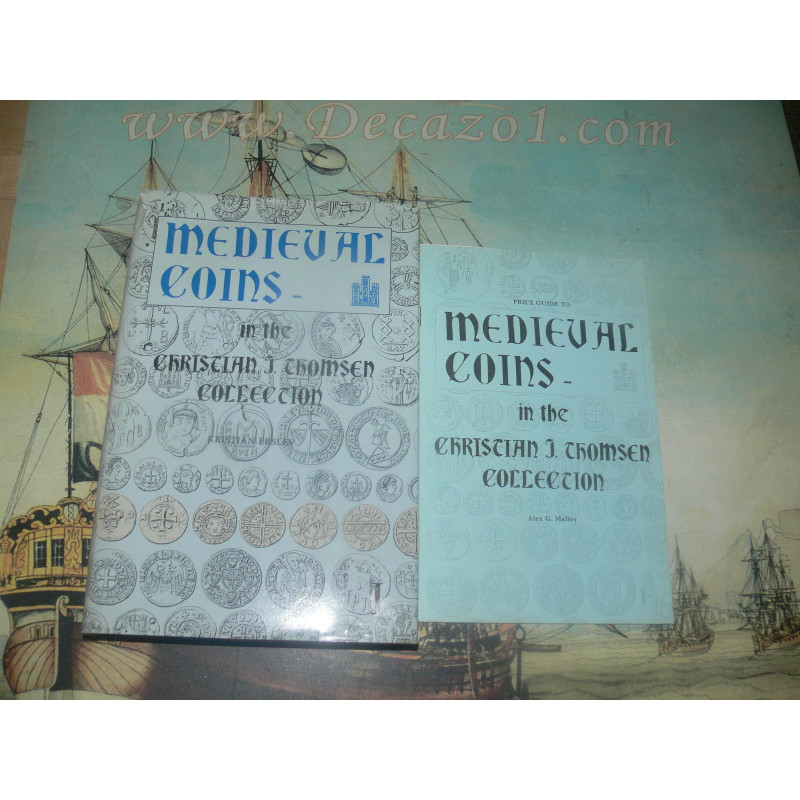  
ERSLEV K. - Medieval coins in the Christian J. Thomsen collection. Low Countries, France, Italy.
Erslev, K.
Medieval coins in the Christian J. Thomsen collection.
Attic Books Ltd., New York, USA, 1992. Hardcover Reprint. xvi, 390 p., XXII plates, eight maps.
With addenda by A.M.Stahl & A.G.Berman. Part I: Byzantine, dark ages, crusader, England, Serbia, Italy, Spain, Portugal, France and low countries.
For Condition, Index, and more details see photos.

Security policy
Decazo1 uses only functional & analytical cookies to navigate and improve the website.

Delivery policy
Items are shipped by PostNL or DPD with tracking or drop-off with signature.

Return policy
After delivery, 30 days (send email first) by registered mail. More Info in Shipping & Delivery
Small tear in cover!

Kristian Erslev.  
Medieval coins in the Christian J. Thomsen collection.
Originally published in Copenhagen in 1873.
Reprint Attic Books Ltd., New York, USA, 1992. Hardcover. 406 pages including 4 plates of line drawings, with 22 new plates of black and white photographs. Translated from French to English and with corrections and amendments by Alan M Stahl and Allen G Berman, and photographs by Alex G Malloy.  An introduction by Jorgen S Jensen.
With separate PB list of estimated prices. (20 pages, 136 x 216mm, stapled).   ISBN 0915018330 and ISBN 0915018462 for the price list.
This covers the following:  Byzantium, the Dark Ages, the Crusaders, Islamic coins, England, Serbia, Italy, Spain, Portugal, France, and the Low Countries.
C J Thomsen was among the most influential numismatic collectors of his time. He amassed one of the largest collections of medieval coins in Europe, if not the world.
The present volume commences with the coinages of the major medieval empires in the east, namely Byzantium (including both centralized Imperial issues and provincial emissions) and Islam.
The next section deals with the early and often problematic coinages of the Dark Ages, ca. 5th-9th centuries. This section on coins of the invading Ostrogoths, Lombards, Vandals and Visigoths, as well as the Merovingian, Carolingian, and Anglo-Saxon series have been considerably updated and sometimes re-attributed with reference to more modern sources.
The third section deals with medieval coinages from the early establishment of the countries that form the basis of modern Europe and follows numismatic developments in these areas to the fifteenth century. The issues of Italy, France, Britain and the Low Countries are extensively treated and organized into secular, ecclesiastical, and civic divisions. This section also contains the coinage of Spain and Portugal, as well as newly updated treatments of Thomsen's Armenian, Serbian, and Crusader coins.
Over 4,100 coins are catalogued in this volume alone, and Thomsen's notes on rarity are also included. The coin illustrations are taken from Thomsen's own coin collection, now in the Royal Danish Museum, Copenhagen. Two bibliographies (the original and modern updatings), an addendum updating the coin attributions, an index to rulers and geographical locations, and a list of Thomsen's coins still in the Royal Collection, together with eight maps have been added to increase the scope and utility of this work for all those interested in medieval coins.

Christian J Thomsen
Born in 1788, the son of a wealthy Copenhagen merchant, Thomsen had no formal university education. Nevertheless, he managed to achieve a high level of self-education. By the time he was twenty-eight, he was named Secretary to the Royal Commission of Antiquities. In 1832 he was appointed assistant-keeper of the Royal Cabinet of Coins, succeeding as its keeper ten years later. Thomsen pioneered modern museum practice by permitting the public viewing of the collections. He reformed and augmented the collections and was known as a great organizer. In his will, he left his impressive collection of medieval coins to the Royal Cabinet under the proviso that it be published.

Kristian S Erslev
As a student aged nineteen, Kristian Erslev was given the task of completing the Thomsen Collection catalogue. By 1876 he had completed and published his work in three volumes, of which this is the first.  He died in 1930.
Weight: 1.600 kg. (packaging included)
Combined shipping
After registration (Important) the system automatically calculates the thickness and weight of every letter and gives you the rate for your Country. (If the combined order becomes to thick or heavy for a registered letter by PostNL, you automaticly see the rate for a parcel in your shoppingcart.)
Shipping is based on a 2 kg registered letter/parcel by PostNL, up to 2 kg no extra shipping costs if the books fit in the same letter/parcel.
Europe only: If its cheaper, we ship with DPD parcels (A 10 kg parcel often costs a few Euros more as a 2 kg parcel by PostNL, the standard shipping company)  you will get a refund if you paid to much postage!
Shipping Refunds will be given by Bank or PayPal (The system cann't do this automatcally). Look for details under Shipping & Delivery in the Top Bar.
Combined shipping rules:
You have to combine all your purchases in one order, otherwise the system will see the purchases as seperate orders and start again with the basic rate for a 2 kg registered letter/parcel.
If you accidentally place more orders, we will recalculate the postage and give you a refund. We always ship for the lowest possible costs!
We ship Worldwide, if you cann't register or place your order, please contact us by e-mail:  decazo1@hotmail.com