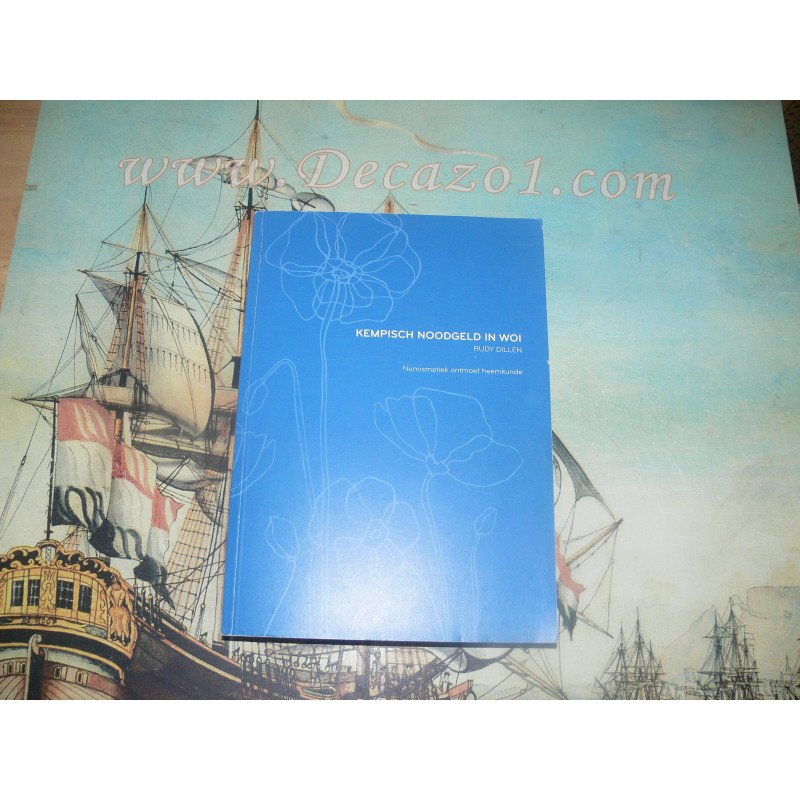  
Dillen – Kempisch Noodgeld in WOI. Belgian WW1 Siege money
Rudy Dillen
Kempisch Noodgeld tijdens WO I
Belgisch noodgeld uit de Eerste Wereldoorlog

numismatiek ontmoet heemkunde
Belgian WWI Siege money
Vorselaar. Erfgoedcel Kempens Karakter. 2015. Softcover. Limited First Edition, 360 p., Illustrated in coulor. Dutch text.
For Condition, Index, and more details see photos.

Security policy
Decazo1 uses only functional & analytical cookies to navigate and improve the website.

Delivery policy
Items are shipped by PostNL or DPD with tracking or drop-off with signature.

Return policy
After delivery, 30 days (send email first) by registered mail. More Info in Shipping & Delivery
Kempisch noodgeld in WO1, geschreven en samengesteld door Rudy Dillen, voorzitter van Numismatica Herental. Hij geeft erin een mooi en rijkelijk geïllustreerd overzicht van de biljetten en bons die tijdens de oorlogsjaren werden gebruikt, aangevuld met informatie over de samenstelling en de werking van de plaatselijke hulp commissies, vooral in het leven geroepen om het nijpend voedseltekort te bestrijden. Die laatste informatie haalde hij vnl. uit talloze gesprekken met praatgrage kempenaars wier verhalen en anekdotes zijn tableau een couleur locale bezorgden. Noodgeld dat circuleerde tijdens de oorlogsperiode 1914 – 1918 is een weinig besproken onderdeel van de numismatiek. Al van bij aanvang van de vijandelijkheden vormde geldschaarste een ernstig economisch probleem: kopen, verkopen en lonen uitbetalen werd moeilijk en door de forse stijging van de prijzen ontstond een nieuw fenomeen: de inflatie. Daar de Nationale Bank gekozen had voor de vlucht naar Londen en de goudvoorraad (onderpand van de bankbiljetten) in veiligheid was gebracht, werd geen nieuw geld meer gedrukt. Ook de omruiling van biljetten naar muntstukken stokte daar de Duitsers het metalen geld in beslag namen voor de oorlogsindustrie. Het tekort aan geld werd dan ook opgevangen door het drukken van lokaal noodgeld dat meestal alleen waarde had in eigen stad of in een cluster van gemeenten die daaromtrent een afspraak hadden gemaakt. Vanaf 1915 kwamen er ook biljetten op de markt die overal konden gebruikt worden en aangemaakt waren door de Generale Bankmaatschappij. Tot drie maanden na het sluiten van de vrede in '18 konden deze omgeruild worden tegen biljetten van de Nationale Bank. Vermeldenswaard is nog dat Rudy Dillen, tot zijn verbazing, de grootste verzameling Belgisch noodgeld aantrof in het Imperial War Museum van Londen.
In het boek dat 360 blz telt, komt het noodgeld in 98 gemeenten, zowat gans de provincie Antwerpen aan bod.  Een aanrader.
Weight: 1.050 kg. (packaging included)
Combined shipping
After registration (Important) the system automatically calculates the thickness and weight of every letter and gives you the rate for your Country. (If the combined order becomes to thick or heavy for a registered letter by PostNL, you automaticly see the rate for a parcel in your shoppingcart.)
Shipping is based on a 2 kg registered letter/parcel by PostNL, up to 2 kg no extra shipping costs if the books fit in the same letter/parcel.
Europe only: If its cheaper, we ship with DPD parcels (A 10 kg parcel often costs a few Euros more as a 2 kg parcel by PostNL, the standard shipping company)  you will get a refund if you paid to much postage!
Shipping Refunds will be given by Bank or PayPal (The system cann't do this automatcally). Look for details under Shipping & Delivery in the Top Bar.
Combined shipping rules:
You have to combine all your purchases in one order, otherwise the system will see the purchases as seperate orders and start again with the basic rate for a 2 kg registered letter/parcel.
If you accidentally place more orders, we will recalculate the postage and give you a refund. We always ship for the lowest possible costs!
We ship Worldwide, if you cann't register or place your order, please contact us by e-mail:  decazo1@hotmail.com