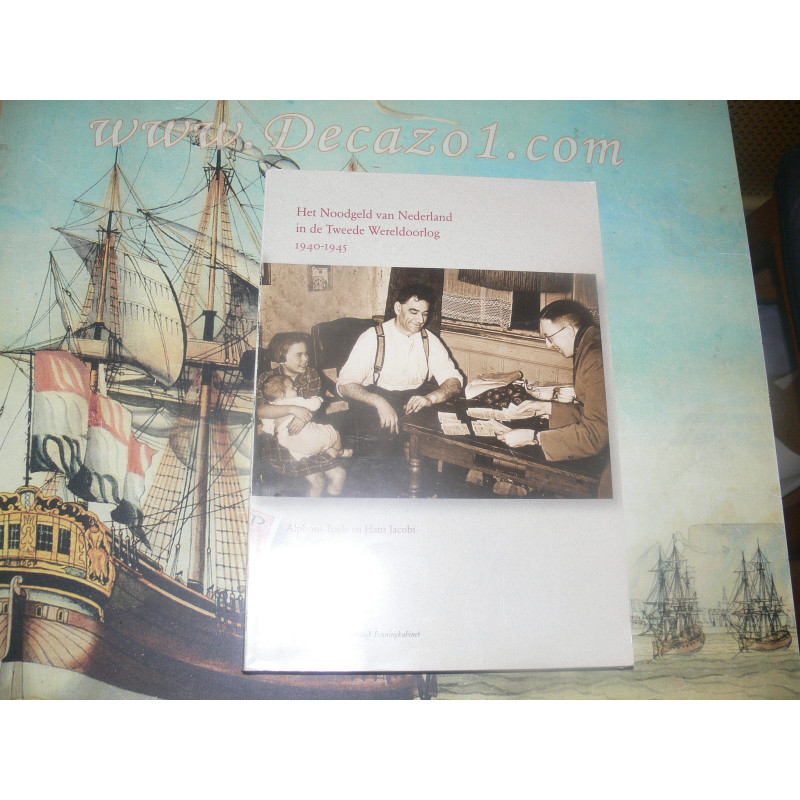  
Toele, Jacobi - Het Noodgeld van Nederland in de Tweede Wereldoorlog 1940-1945 Dutch emergency notes, W.O. II
AlphonsToele  en Hans Jacobi
Het Noodgeld van Nederland in de Tweede Wereldoorlog 1940-1945
Dutch emergency notes during W.O. II 
Rijksmuseum Het Koninklijk Penningkabinet, Leiden, 1996. Softcover,  29 x 21,5 cm ., pictorial wrps., ill., 380 p. Only 750 copies printed!
New from old dealerstock.
For Condition, Index, and more details see photos.

Security policy
Decazo1 uses only functional & analytical cookies to navigate and improve the website.

Delivery policy
Items are shipped by PostNL or DPD with tracking or drop-off with signature.

Return policy
After delivery, 30 days (send email first) by registered mail. More Info in Shipping & Delivery
In de chaotische meidagen van 1940 raakte het Nederlandse betalingsverkeer ernstig ontwricht. Gemeenten begonnen zelf noodgeld uit te geven. Deze publicatie, tevens zeer uitgebreide catalogus, is het eerste complete overzicht van het gemeentelijke noodgeld uit deze periode. Deze schitterende uitgave geeft naast alle informatie over de bankbiljetten ook de historische context waarin dit noodgeld het licht zag. Van de ca. 600 verschillende coupures welke door ruim 160 gemeenten waren uitgegeven, zijn er in deze uitgave meer dan 300 in zwart-wit en 27 in kleur haarscherp afgebeeld. De speciale noodgelduitgiften zoals die van de Stichting Winterhulp Nederland, het gevangenkampengeld, de Reichskreditkassenscheine etc. worden eveneens uitgebreid besproken. In de bijlagen zijn tal van uiterst handige overzichten opgenomen. De uitgave is geschikt voor een groot publiek, leest erg gemakkelijk en is gebruiksvriendelijk. Interessant voor belangstellenden in de Tweede Wereldoorlog, (nood)papiergeld, maar met name ook van belang voor geïnteresseerden in de historie van één van de 160 in deze uitgave genoemde gemeenten.
Biblion recensie, Ir. M.F. Hartkamp.
Toele , Alphons (1943) en Hans Jacobi (1943), bijdragen van . Nico Arkesteijn (1944-2014) en Erik van der Kam (1956).
Weight: 1.500 kg. (packaging included)
Combined shipping
After registration (Important) the system automatically calculates the thickness and weight of every letter and gives you the rate for your Country. (If the combined order becomes to thick or heavy for a registered letter by PostNL, you automaticly see the rate for a parcel in your shoppingcart.)
Shipping is based on a 2 kg registered letter/parcel by PostNL, up to 2 kg no extra shipping costs if the books fit in the same letter/parcel.
Europe only: If its cheaper, we ship with DPD parcels (A 10 kg parcel often costs a few Euros more as a 2 kg parcel by PostNL, the standard shipping company)  you will get a refund if you paid to much postage!
Shipping Refunds will be given by Bank or PayPal (The system cann't do this automatcally). Look for details under Shipping & Delivery in the Top Bar.
Combined shipping rules:
You have to combine all your purchases in one order, otherwise the system will see the purchases as seperate orders and start again with the basic rate for a 2 kg registered letter/parcel.
If you accidentally place more orders, we will recalculate the postage and give you a refund. We always ship for the lowest possible costs!
We ship Worldwide, if you cann't register or place your order, please contact us by e-mail:  decazo1@hotmail.com