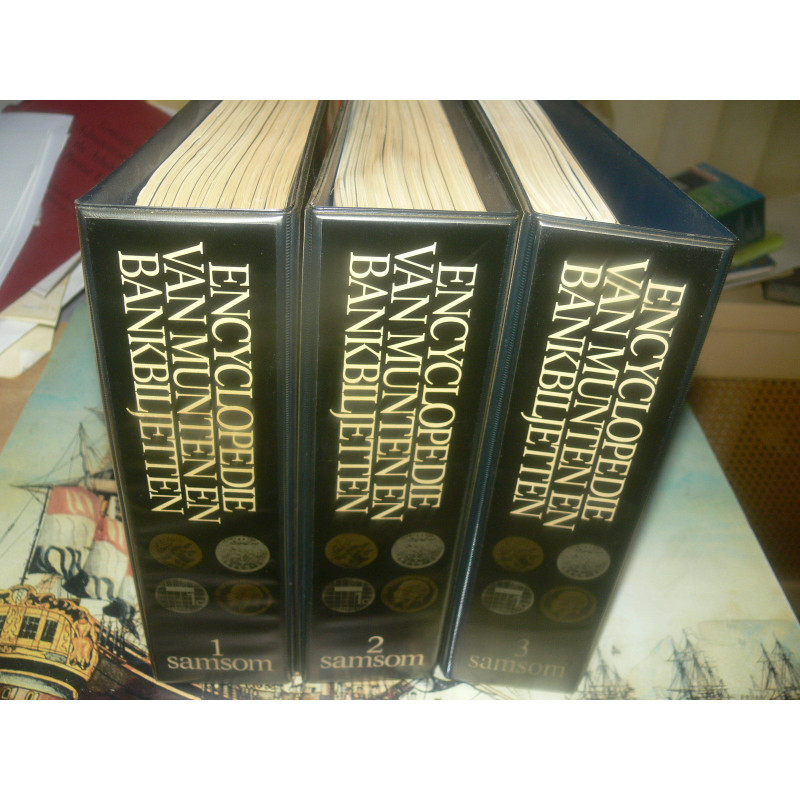  
Beek, van e.a.: ENCYCLOPEDIE VAN MUNTEN EN BANKBILJETTEN
Beek, van E.J.A. (redactie)
ENCYCLOPEDIE VAN MUNTEN EN BANKBILJETTEN
Houten 1986 [2002]. Drie ringbanden, duizenden pagina's informatie en illustraties volgens het traditionele A - Z-systeem.
Het naslagwerk over munten en bankbiljetten verscheen in losse afleveringen gedurende de periode 1986-2002.
For Condition, Index, and more details see photos.

Security policy
Decazo1 uses only functional & analytical cookies to navigate and improve the website.

Delivery policy
Items are shipped by PostNL or DPD with tracking or drop-off with signature.

Return policy
After delivery, 30 days (send email first) by registered mail. More Info in Shipping & Delivery
Inclusief de bijlagen: 1): Catalogus van Kloppen 2): Latijnse Spreuken op Munten 3): De Noord- en Zuidnederlandse Muntmeesters 4): Lijsten van Gemeenten in België, Nederland en Luxemburg 5): Musea 6): Literatuur 7): Ontwerpers Munten en Bankbiljetten Benelux 8): Numismatische Termen en Begrippen.
Het naslagwerk over munten en bankbiljetten verscheen in losse afleveringen gedurende de periode 1986-2002. Met o.a. bijdragen van:
Arkesteijn, Grolle, van Gelder, Holleman-Tas, Jacobi, Lingen, Scheffers, van der Wis.
Omdat gedurende de laatste jaren de prijs van de losse aanvullingen meer dan verdubbelde stopten veel abbonnees en zijn veel van de aangeboden exemplaren incompleet of gedeeltelijk gecopieerd. Dit exemplaar is 100% volledig en origineel t/m de laatste aanvulling uit 2002! Daarom vermeld ik het aantal bladzijden van elk katern. Dit exemplaar is in perfekte staat! Nieuwprijs complete set € 600.00
Achter de betreffende Hoofdstukken / Letters wordt het aantal pagina's vermeld van de inhoud.
·         Inleiding: 121
A. 77 B. 112, C. 72, D. 79, E. 39, F 49, G 98, H. 74, I. 48, J. 35, K. 81, L. 65, M. 154,
N. 79. O. 48, P. 107, Q. 5, R. 112, S. 169, T. 75, U. 18, V. 75, W. 56, X. 2, Y. 2, Z. 46.
Bijlagen:
·         Catalogus van kloppen 164
·         Latijnse spreuken op Nederlandse munten 17
·         De Noord- en Zuid-Nederlandse muntmeesters 84
·         Lijst van Gemeenten in België, Luxemburg en Nederland 17
·         Musea 20
·         Literatuur 36
·         Ontwerpers 45
·         Numismatische termen en begrippen 29
·         Aanvullingen en verbeteringen 17
Weigt 5.9 kg.
Weight: 5.950 kg (packaging included)
Combined shipping
After registration (Important) the system automatically calculates the weight of every parcel and gives you the rate for your Country.

Shipping is based on a 10 kg registered parcel by PostNL, up to 10 kg no extra shipping costs if the books fit in the same parcel.
Europe only: If its cheaper, we ship with DPD parcels (A 10 kg parcel often costs a few Euros more as a 2 kg parcel by PostNL, the standard shipping company)  you will get a refund if you paid to much postage!

Shipping Refunds will be given by Bank or PayPal (The system cann't do this automatcally). Look for details under Shipping & Delivery in the Top Bar.

Combined shipping rules:
You have to combine all your purchases in one order, otherwise the system will see the purchases as seperate orders and start again with the basic rate for a 2 kg registered letter/parcel.
If you accidentally place more orders, we will recalculate the postage and give you a refund. We always ship for the lowest possible costs!
We ship Worldwide, if you cann't register or place your order, please contact us by e-mail:  decazo1@hotmail.com