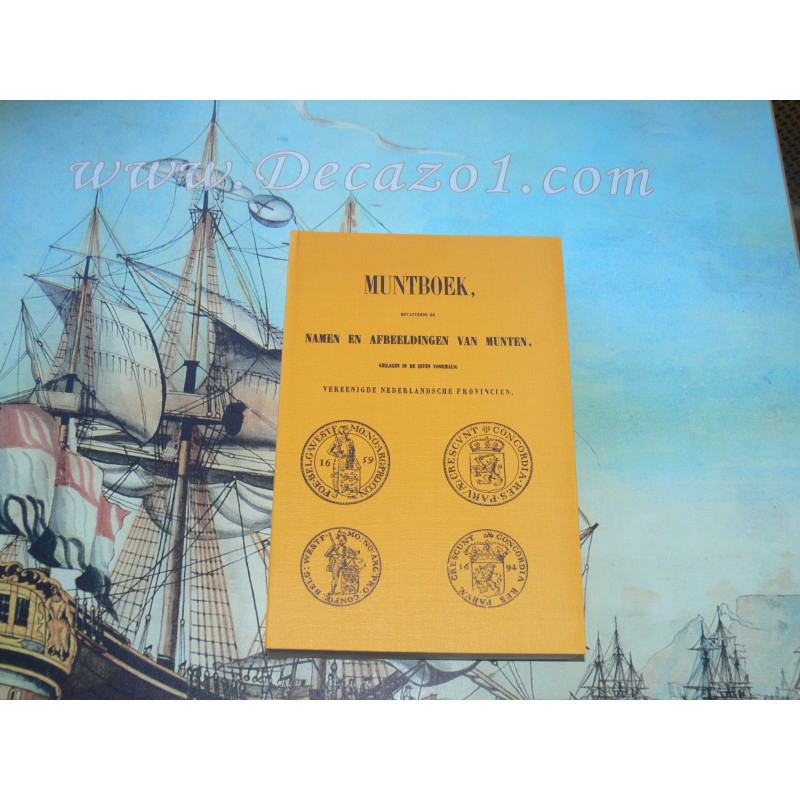  
Verkade: Muntboek 1576-1848 ( Provinciaal geld )Herdruk New
Softcover reprint of the 1848 reference work on Dutch coins. 212 pages with descriptioins of the coins and 228 pages with drawings of all Dutch coins from 1576 to 1848. Dutch Text

The handy search system in the rear of the book enables you to find the name and type in the text of the coins in the front of the book. You don't need to speak Dutch to use the book.
Clain-Steffanelli 10619*
Security policy (edit with Customer reassurance module)

Delivery policy (edit with Customer reassurance module)

Return policy (edit with Customer reassurance module)
P.Verkade Muntboek bevattende Namen en afbeeldingen van munten geslagen in de zeven voormalig Vereenigde Nederlandse Provinciën sedert den vrede van Gent (1576) tot 1848. Softcover Herdruk 22.5 x 15 cm ) van het referentie boek over de Nederlandse munten van 1576 tot 1848, met 212 blz. tekst en 228 blz. met afbeeldingen van de beschreven munten.
Door het zoeksysteem van alle afbeeldingen achterin het Boek, komt U zeer snel bij de beschrijving van de munt.
Door de dikte van het boek moet het verzonden worden als pakketpost. Bij aanschaf van meer boeken tot 10 kg geen extra verzendkosten!!!!!
Clain-Steffanelli 10619*
Weight: 0.900 kg. (packaging included)
Combined shipping
After registration (Important) the system automatically calculates the thickness and weight of every letter and gives you the rate for your Country. (If the combined order becomes to thick or heavy for a registered letter by PostNL, you automaticly see the rate for a parcel in your shoppingcart.)
Shipping is based on a 2 kg registered letter/parcel by PostNL, up to 2 kg no extra shipping costs if the books fit in the same letter/parcel.
Europe only: If its cheaper, we ship with DPD parcels (A 10 kg parcel often costs a few Euros more as a 2 kg parcel by PostNL, the standard shipping company)  you will get a refund if you paid to much postage!
Shipping Refunds will be given by Bank or PayPal (The system cann't do this automatcally). Look for details under Shipping & Delivery in the Top Bar.
Combined shipping rules:
You have to combine all your purchases in one order, otherwise the system will see the purchases as seperate orders and start again with the basic rate for a 2 kg registered letter/parcel.
If you accidentally place more orders, we will recalculate the postage and give you a refund. We always ship for the lowest possible costs!
We ship Worldwide, if you cann't register or place your order, please contact us by e-mail:  decazo1@hotmail.com