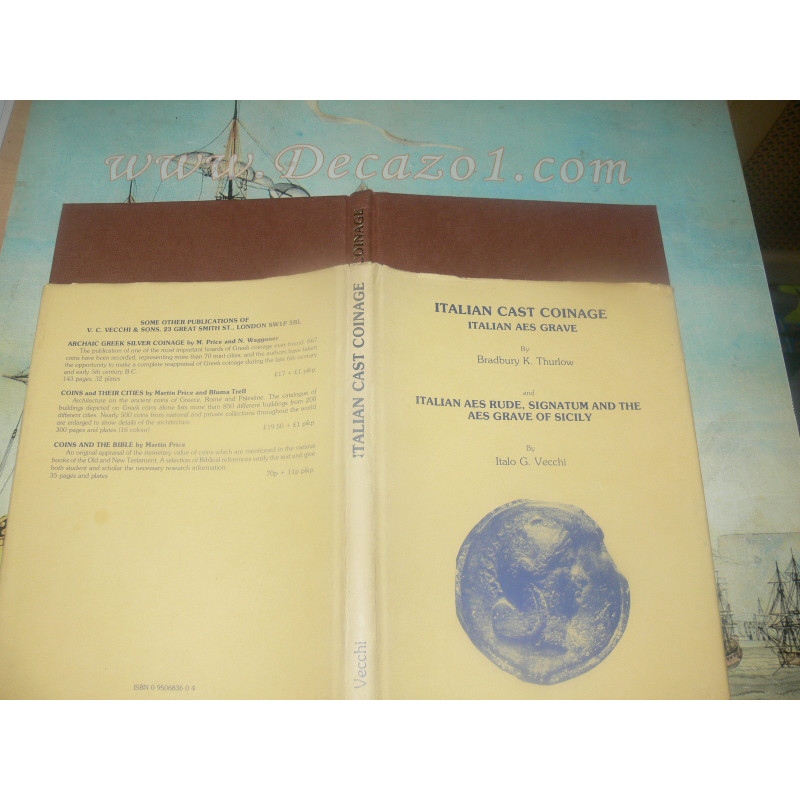  
Thurlow, Vecchi -Italian Cast Coinage - Italian Aes Grave. Italian Aes Rude, Signatum and the Aes Grave of Sicily
Bradbury K. Thurlow, Italo G. Vecchi
Italian Cast Coinage - Italian Aes Grave. Italian Aes Rude, Signatum and the Aes Grave of Sicily by Italo G. VECCHI. A descriptive catalogue of the primitive cast bronze money of ancient Rome and her dependencies.
London, V.C. Vecchi & Sons & B. & H. Kreindler, Dix Hills, NY, USA. Hardcover 50 pages + 82 plates depicting italian coinage.

Security policy
Decazo1 uses only functional & analytical cookies to navigate and improve the website.

Delivery policy
Items are shipped by PostNL or DPD with tracking or drop-off with signature.

Return policy
After delivery, 30 days (send email first) by registered mail. More Info in Shipping & Delivery
V.C Vecchi & Sons / B. & H. Kreindler; First edition. (January 1, 1979
This 1979 work is really two books in one. Using the latest research and dating, it contains 50 pages of brief but useful and informative text and 82 very decent plates which illustrate every known variety. Good concordance with Sydenham and Crawford make it a vital reference, includes useful rarity valuations. An essential handbook for the collector of early Roman Republican bronzes. A superb catalogue of the broad series of cast coinages of Rome and her surrounds. The standard reference on Aes Grave and Aes Signatum, easy to use, all examples illustrated.
Weight: 0.750 kg. (packaging included)
Combined shipping
After registration (Important) the system automatically calculates the thickness and weight of every letter and gives you the rate for your Country. (If the combined order becomes to thick or heavy for a registered letter by PostNL, you automaticly see the rate for a parcel in your shoppingcart.)
Shipping is based on a 2 kg registered letter/parcel by PostNL, up to 2 kg no extra shipping costs if the books fit in the same letter/parcel.
Europe only: If its cheaper, we ship with DPD parcels (A 10 kg parcel often costs a few Euros more as a 2 kg parcel by PostNL, the standard shipping company)  you will get a refund if you paid to much postage!
Shipping Refunds will be given by Bank or PayPal (The system cann't do this automatcally). Look for details under Shipping & Delivery in the Top Bar.
Combined shipping rules:
You have to combine all your purchases in one order, otherwise the system will see the purchases as seperate orders and start again with the basic rate for a 2 kg registered letter/parcel.
If you accidentally place more orders, we will recalculate the postage and give you a refund. We always ship for the lowest possible costs!
We ship Worldwide, if you cann't register or place your order, please contact us by e-mail:  decazo1@hotmail.com