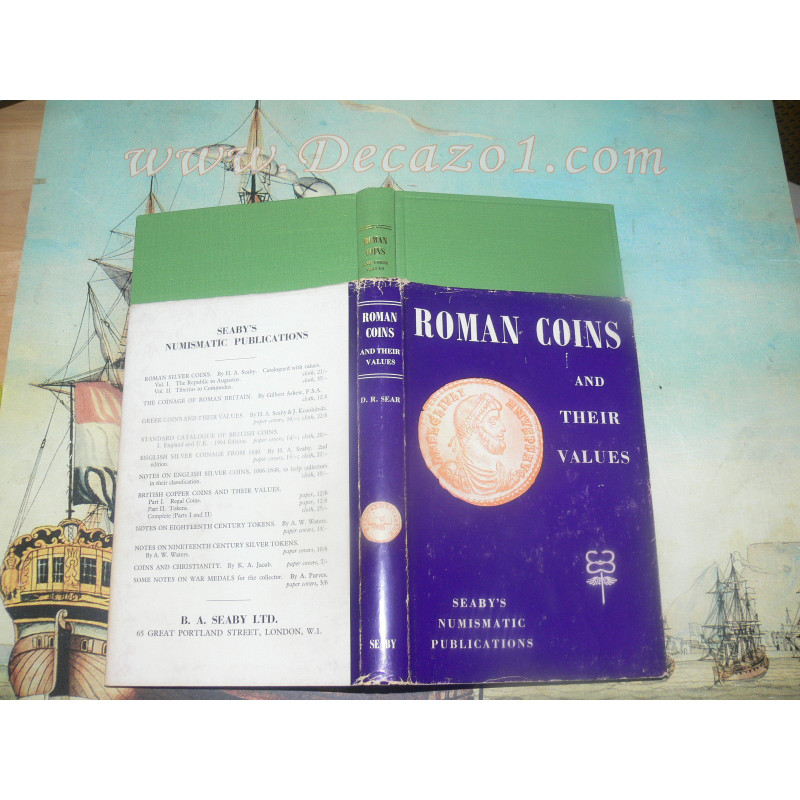  
Sear, David R.- Roman Coins and their values 1964 1st Edition
David R. Sear
Roman Coins and their values
B.A.Seaby Ltd.,  London, 1964. Hardcover, First Edition, 288 p., 5 plates. 22,5 x 15,5 cm.

Collectors prefer this edition because the line drawings make it easier to identify worn coins.
For Condition, Index, and more details see photos.

Security policy
Decazo1 uses only functional & analytical cookies to navigate and improve the website.

Delivery policy
Items are shipped by PostNL or DPD with tracking or drop-off with signature.

Return policy
After delivery, 30 days (send email first) by registered mail. More Info in Shipping & Delivery
Contents: Collecting Roman Coins -- The Denominations of the Roman Coinage -- The Reverse Types of the Roman Coinage : Deities and Personifications -- Mints and Mint-Marks of the Later Roman Empire -- Roman Republican Coinage -- Roman Imperatorial Coins --Chronological List of the Later Byzantine Rules -- Books on Roman Coins -- Black and White photographic plates
"It was during this time that I wrote my first book ROMAN COINS AND THEIR VALUES. H.A. Seaby's 1954 Roman catalogue was out of print and seriously in need of revision, so I took it upon myself to undertake the task in my spare time. The book was published by Seaby in 1964 and received immediate recognition as an invaluable aid to the beginner in the hobby of Roman coin collecting. In the same year it was awarded the Lhotka Memorial Prize by the Royal Numismatic Society in London."
Weight: 0.520 kg. (packaging included)
Combined shipping
After registration (Important) the system automatically calculates the thickness and weight of every letter and gives you the rate for your Country. (If the combined order becomes to thick or heavy for a registered letter by PostNL, you automaticly see the rate for a parcel in your shoppingcart.)
Shipping is based on a 2 kg registered letter/parcel by PostNL, up to 2 kg no extra shipping costs if the books fit in the same letter/parcel.
Europe only: If its cheaper, we ship with DPD parcels (A 10 kg parcel often costs a few Euros more as a 2 kg parcel by PostNL, the standard shipping company)  you will get a refund if you paid to much postage!
Shipping Refunds will be given by Bank or PayPal (The system cann't do this automatcally). Look for details under Shipping & Delivery in the Top Bar.
Combined shipping rules:
You have to combine all your purchases in one order, otherwise the system will see the purchases as seperate orders and start again with the basic rate for a 2 kg registered letter/parcel.
If you accidentally place more orders, we will recalculate the postage and give you a refund. We always ship for the lowest possible costs!
We ship Worldwide, if you cann't register or place your order, please contact us by e-mail:  decazo1@hotmail.com