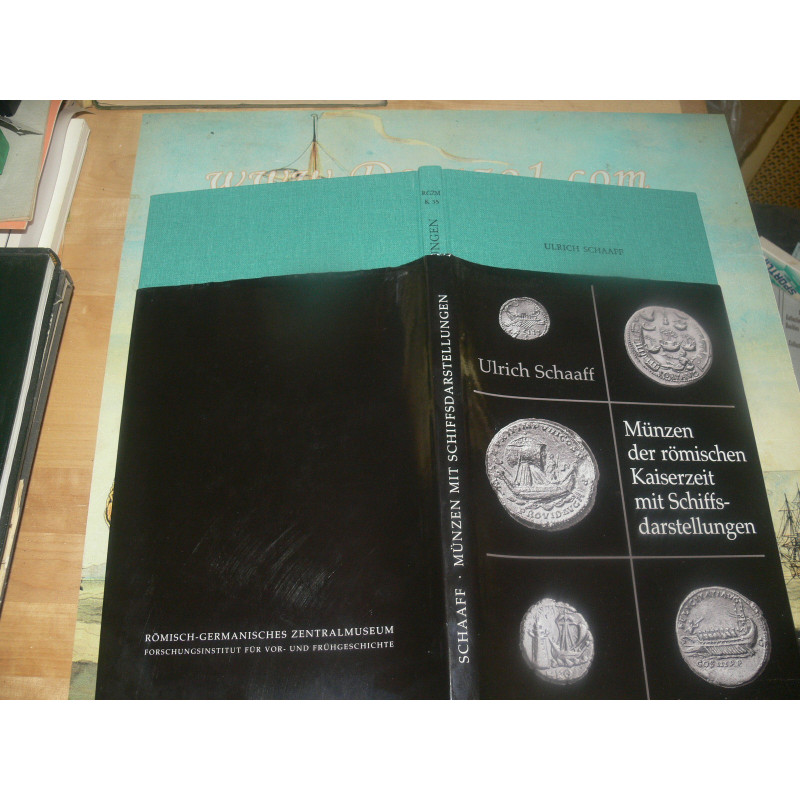  
Schaaff, Ulrich - Münzen der römischen Kaiserzeit mit Schiffsdarstellungen im Römisch-Germanischen Zentralmuseum
Ulrich Schaaff.
Münzen der römischen Kaiserzeit mit Schiffsdarstellungen im Römisch-Germanischen Zentralmuseum
Kataloge vor- und frühgeschichtlicher Altertümer,
Band 35.
Mainz. Verlag des Romisch-Germanischen Zentralmuseums 2003 Hardcover. vii, 47p., X colour plates, 123 B/W plates. 12 Maps in text.
For Condition, Index, and more details see photos.

Security policy
Decazo1 uses only functional & analytical cookies to navigate and improve the website.

Delivery policy
Items are shipped by PostNL or DPD with tracking or drop-off with signature.

Return policy
After delivery, 30 days (send email first) by registered mail. More Info in Shipping & Delivery
With more than 600 copies, the RGZM has the world's largest collection of coins depicting ships from the Roman Empire. Because of their large number, these coins form a unique collection of sources on ancient shipping.
Although the representations of coins are small, it is possible to distinguish between ship types and examine technical details such as rudder or sail drive. Most of them are warships, but there are also merchant ships and buildings associated with shipping, such as lighthouses and port facilities. The coins in the catalog, presented in detailed illustrations, offer unique information on the construction and equipment of the ships, for which no other ancient image sources exist.
Mit mehr als 600 Exemplaren verfügt das RGZM über die weltweit größte Sammlung von Münzen mit Schiffsdarstellungen aus der römischen Kaiserzeit. Schon aufgrund ihrer Vielzahl bilden diese Münzen eine einzigartige Quellensammlung zur antiken Schifffahrt.
Obwohl Münzdarstellungen klein sind, lassen sich Schiffstypen unterscheiden und auf technische Details wie Ruder- oder Segelantrieb untersuchen. Meist handelt es sich um Kriegsschiffe, es werden aber auch Handelsschiffe sowie mit der Schifffahrt verbundene Bauten, etwa Leuchttürme und Hafenanlagen, dargestellt. Die in detaillierten Abbildungen vorgelegten Münzen des Katalogs bieten einzigartige Informationen zu Bauweise und Ausstattung der Schiffe, für die z.T. keine anderen antiken Bildquellen existieren.
Weight: 1.300 kg. (packaging included)
Combined shipping
After registration (Important) the system automatically calculates the thickness and weight of every letter and gives you the rate for your Country. (If the combined order becomes to thick or heavy for a registered letter by PostNL, you automaticly see the rate for a parcel in your shoppingcart.)
Shipping is based on a 2 kg registered letter/parcel by PostNL, up to 2 kg no extra shipping costs if the books fit in the same letter/parcel.
Europe only: If its cheaper, we ship with DPD parcels (A 10 kg parcel often costs a few Euros more as a 2 kg parcel by PostNL, the standard shipping company)  you will get a refund if you paid to much postage!
Shipping Refunds will be given by Bank or PayPal (The system cann't do this automatcally). Look for details under Shipping & Delivery in the Top Bar.
Combined shipping rules:
You have to combine all your purchases in one order, otherwise the system will see the purchases as seperate orders and start again with the basic rate for a 2 kg registered letter/parcel.
If you accidentally place more orders, we will recalculate the postage and give you a refund. We always ship for the lowest possible costs!
We ship Worldwide, if you cann't register or place your order, please contact us by e-mail:  decazo1@hotmail.com