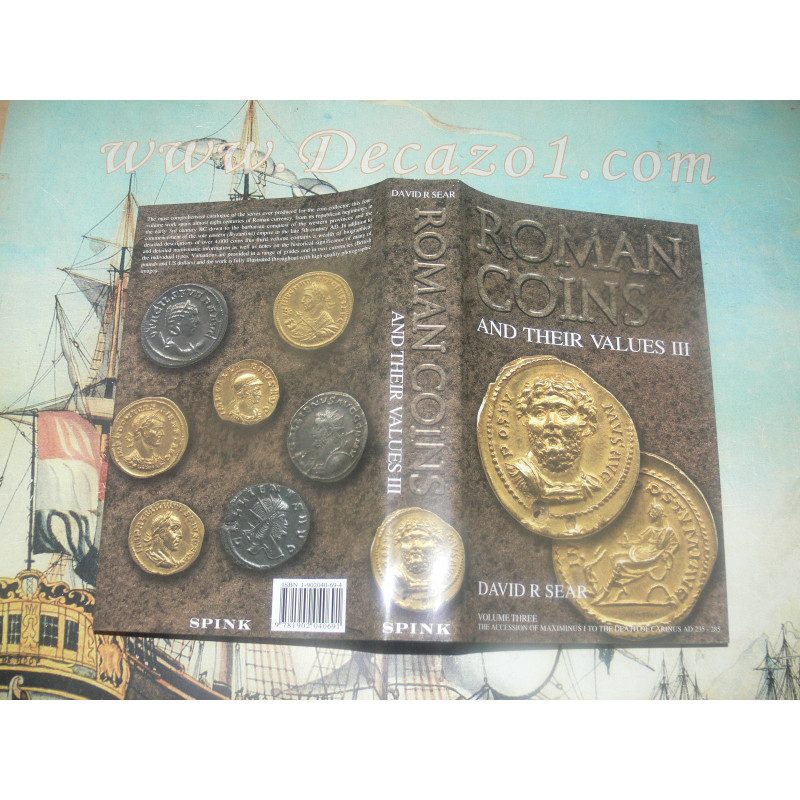  
Sear,David R- Roman Coins and Their Values, V 3. The Third Century Crisis and Recovery New!
David R. Sear
Roman Coins and Their Values, Volume 3
Millennium Edition
Volume III: The Third Century Crisis and Recovery
Spink London. 2005. Hardcover, 536 p., illustrated, valuations in UK-pound. Elaborate descriptions for this 50-year period. References to R.I.C.  Language English,
Taal Engels, prijzen in ponden, zie foto's.
For Condition, Index, and more details see photos.

Security policy
Decazo1 uses only functional & analytical cookies to navigate and improve the website.

Delivery policy
Items are shipped by PostNL or DPD with tracking or drop-off with signature.

Return policy
After delivery, 30 days (send email first) by registered mail. More Info in Shipping & Delivery
Het naslag boek voor Romeinse munten, door David R. Sear.
The third volume of the fully revised and expanded general catalogue of Roman coins extends coverage of the Imperial series from the accession of Maximinus I in AD 235 down to the assassination of Carinus and the accession of Diocletian half a century later. This turbulent period, during which the Empire came close to total collapse and disintegration, witnessed great changes in the Imperial coinage including unprecedented debasement and the beginning of the decentralization of the mint system. The introductory articles are again included in this volume and, as with Volumes I and II, the Imperial biographies have been entirely rewritten and enlarged. There has been a major expansion of the catalogue listings and special emphasis has been placed on the place of mintage and precise date of issue of each catalogue entry, making this book a far more valuable source of information than previous editions (or any other general work on the subject). The extensive 3rd century coinage of Roman Egypt, struck at Alexandria, is also covered comprehensively in continuation of the format established in the two previous volumes of the Millennium Edition. The number and quality of the illustrations incorporated in the text has been increased to over 900 out of a total listing of more than 4,000 types.  
New from old dealerstock.
Weight: 1.300 kg. (packaging included)
Combined shipping
After registration (Important) the system automatically calculates the thickness and weight of every letter and gives you the rate for your Country. (If the combined order becomes to thick or heavy for a registered letter by PostNL, you automaticly see the rate for a parcel in your shoppingcart.)
Shipping is based on a 2 kg registered letter/parcel by PostNL, up to 2 kg no extra shipping costs if the books fit in the same letter/parcel.
Europe only: If its cheaper, we ship with DPD parcels (A 10 kg parcel often costs a few Euros more as a 2 kg parcel by PostNL, the standard shipping company)  you will get a refund if you paid to much postage!
Shipping Refunds will be given by Bank or PayPal (The system cann't do this automatcally). Look for details under Shipping & Delivery in the Top Bar.
Combined shipping rules:
You have to combine all your purchases in one order, otherwise the system will see the purchases as seperate orders and start again with the basic rate for a 2 kg registered letter/parcel.
If you accidentally place more orders, we will recalculate the postage and give you a refund. We always ship for the lowest possible costs!
We ship Worldwide, if you cann't register or place your order, please contact us by e-mail:  decazo1@hotmail.com