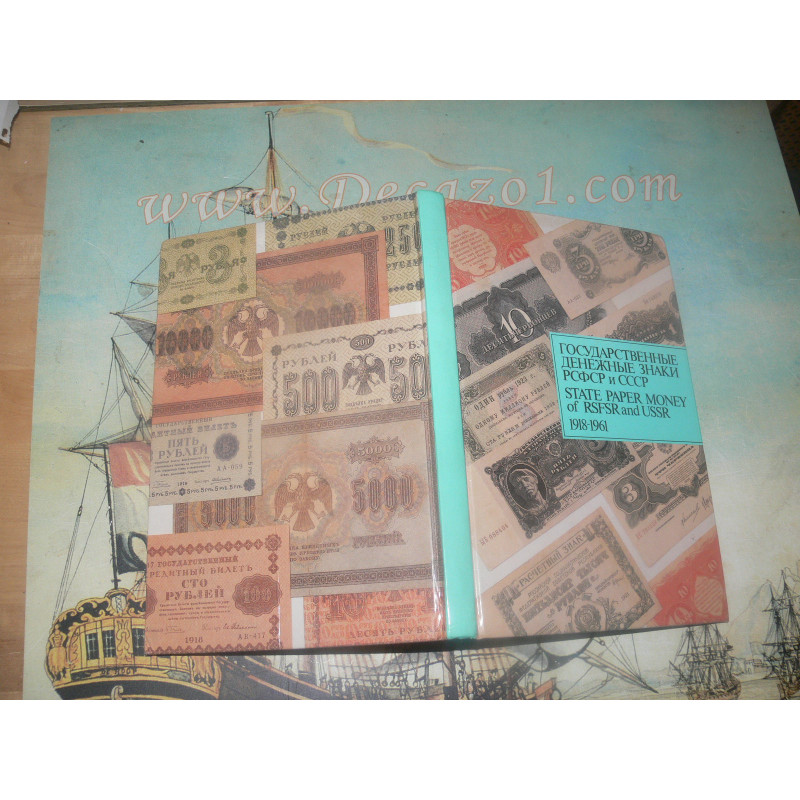  
Senkevich, D.A.- Public moneys of the RSFSR and the USSR 1918 - 1961 / State paper money- Sienkiewicz
DA Sienkiewicz / Senkevich
State Paper Money Of RSFSR And USSR 1918-1961
Mockba. 1989 Hardcover First Edition. 210 p., illustrations in colour. Extensive historical background info. In Russian and English
For Condition, Index, and more details see photos.

Security policy
Decazo1 uses only functional & analytical cookies to navigate and improve the website.

Delivery policy
Items are shipped by PostNL or DPD with tracking or drop-off with signature.

Return policy
After delivery, 30 days (send email first) by registered mail. More Info in Shipping & Delivery
Public moneys of the RSFSR and the USSR 1918 - 1961 / State paper money of RSFSR and USSR
Author: DA Sienkiewicz
Publisher: Mezhnumizmatika, Vneshtorgizdat
1989
Additional Features
Page 210 p., ., illustrations in colour. Extensive historical background info. In Russian and English
The publication is a catalog of banknotes. It cataloged and described the Soviet banknotes issues of national importance 1918-1961 . In this case, a special study of the so-called money substitutes, issued in 1918, along with banknotes prerevolutionary sample. Special attention is paid coupon interest securities pre-October period. Used, in addition, the latest publication on the study of the question of the payment obligations of the People's Commissariat of Finance 1923-1929 . Previously quite unknown.
Catalog material is presented in four sections:
1. Money substitutes. 1918
2. Settlement marks RSFSR 1919-1921.
3. Banknotes of the RSFSR and the USSR during the preparation and conduct of monetary reform 1922-1924.
4. Banknotes of the USSR 1924-1961 years.
Государственные денежные знаки РСФСР и СССР 1918 - 1961 / State paper money of RSFSR and USSR
Автор: Д. А. Сенкевич
Издательство: Межнумизматика, Внешторгиздат
1989 г.
Дополнительные характеристики
Страниц 212 стр.
Твердый переплет
На русском и английском языках
От производителя
Издание представляет собой каталог денежных знаков. В нем систематизированы и описаны советские денежные знаки общегосударственного значения выпусков 1918-1961 гг. При этом проведено специальное изучение так называемых денежных суррогатов, введенных в обращение в 1918 г. наравне с кредитными билетами дореволюционного образца. Особое внимание уделено купонам процентных бумаг дооктябрьского периода. Использована, кроме того, новейшая публикация по исследованию вопроса о платежных обязательствах Народного комиссариата финансов 1923-1929 гг., ранее совсем неизвестных.
Материал каталога изложен в четырех разделах:
1. Денежные суррогаты. 1918 г.
2. Расчетные знаки РСФСР 1919-1921 гг.
3. Денежные знаки РСФСР и СССР в период подготовки и проведения денежной реформы 1922-1924 гг.
4. Денежные знаки СССР 1924-1961 гг.
Weight: 0.800 kg. (packaging included)
Combined shipping
After registration (Important) the system automatically calculates the thickness and weight of every letter and gives you the rate for your Country. (If the combined order becomes to thick or heavy for a registered letter by PostNL, you automaticly see the rate for a parcel in your shoppingcart.)
Shipping is based on a 2 kg registered letter/parcel by PostNL, up to 2 kg no extra shipping costs if the books fit in the same letter/parcel.
Europe only: If its cheaper, we ship with DPD parcels (A 10 kg parcel often costs a few Euros more as a 2 kg parcel by PostNL, the standard shipping company)  you will get a refund if you paid to much postage!
Shipping Refunds will be given by Bank or PayPal (The system cann't do this automatcally). Look for details under Shipping & Delivery in the Top Bar.
Combined shipping rules:
You have to combine all your purchases in one order, otherwise the system will see the purchases as seperate orders and start again with the basic rate for a 2 kg registered letter/parcel.
If you accidentally place more orders, we will recalculate the postage and give you a refund. We always ship for the lowest possible costs!
We ship Worldwide, if you cann't register or place your order, please contact us by e-mail:  decazo1@hotmail.com