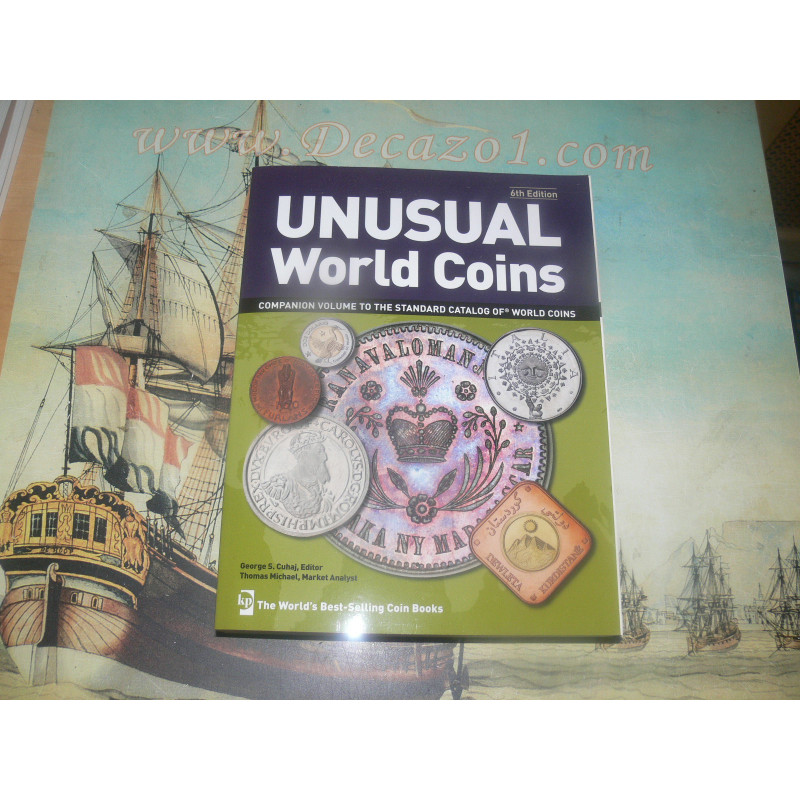  
Cuhaj & Michael - Unusual World Coins (Companion Volume to Standard Catalog of World) 6th Edition 2011
Cuhaj, George S., Ed (Editor), and Michael, Thomas
Unusual World Coins
(Companion Volume to Standard Catalog of World)
Krause Publications. 2011 Softcover. 6th Revised edition. 740 p., illustrated.
New from old Dealerstock.
For Condition, Index, and more details see photos.

Security policy
Decazo1 uses only functional & analytical cookies to navigate and improve the website.

Delivery policy
Items are shipped by PostNL or DPD with tracking or drop-off with signature.

Return policy
After delivery, 30 days (send email first) by registered mail. More Info in Shipping & Delivery
From creative minds worldwide have come fantasy coin issues never listed in any other comprehensive reference. Unusual Coins includes thousands of issues spawned from the non-circulating legal tender boom, but not fitting into the realm of legitimate coinage. Here you'll find coins used by the inhabitants of Middle Earth in The Lord of the Rings. These are real coins, created by Tom Maringer of Scottsdale, Ark., based on reference to coins in the trilogy. Unusual World Coins features: *Expanded Page Count: to accommodate over 7,000 photos * Clear images of coins * Detailed descriptive listings *Over 12,000 accurate market values.
About the Author George Cuhaj is an experienced and accomplished numismatist and researcher. An avid collector with a passion for this hobby, he is closely aligned with leaders in the field. A past president of the American Medalic Sculpture Association, he is a frequent instructor at the American Numismatic Association's Summer Seminars. George is also editor for The Standard Catalog of World Paper Money series. Thomas Michael holds a Bachelor of Arts degree in history and a Master of Arts degree in economics. He has more than 20 years of experience researching and reporting on world coin prices and market trends.
Weight: 1.700 kg. (packaging included)
Combined shipping
After registration (Important) the system automatically calculates the thickness and weight of every letter and gives you the rate for your Country. (If the combined order becomes to thick or heavy for a registered letter by PostNL, you automaticly see the rate for a parcel in your shoppingcart.)
Shipping is based on a 2 kg registered letter/parcel by PostNL, up to 2 kg no extra shipping costs if the books fit in the same letter/parcel.
Europe only: If its cheaper, we ship with DPD parcels (A 10 kg parcel often costs a few Euros more as a 2 kg parcel by PostNL, the standard shipping company)  you will get a refund if you paid to much postage!
Shipping Refunds will be given by Bank or PayPal (The system cann't do this automatcally). Look for details under Shipping & Delivery in the Top Bar.
Combined shipping rules:
You have to combine all your purchases in one order, otherwise the system will see the purchases as seperate orders and start again with the basic rate for a 2 kg registered letter/parcel.
If you accidentally place more orders, we will recalculate the postage and give you a refund. We always ship for the lowest possible costs!
We ship Worldwide, if you cann't register or place your order, please contact us by e-mail:  decazo1@hotmail.com