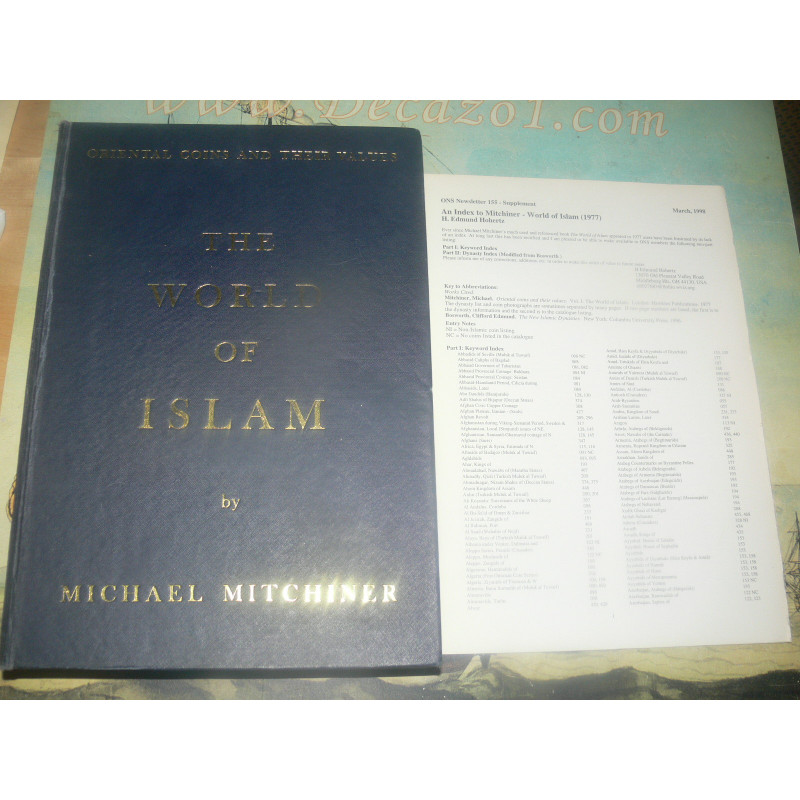  
Mitchiner: Oriental Coins and Their Values. V 1. The World of Islam. First Edition. Better plates.
MITCHINER, MICHAEL 
Oriental Coins and Their Values Volume One 
The World of Islam
Hawkins, London,1977 First Print. Hardcover 512 pages, profusely illustrated. Valuations.
The original printing with heavier paper stock making the book thicker. There appears to be little difference in the quality of the illustrations as compared to the reprint.
For Condition see photos.

Security policy
Decazo1 uses only functional & analytical cookies to navigate and improve the website.

Delivery policy
Items are shipped by PostNL or DPD with tracking or drop-off with signature.

Return policy
After delivery, 30 days (send email first) by registered mail. More Info in Shipping & Delivery
Ex Tom Passon Library, with his Firm stamp (Omni Trading) on the cover and at the underside of the books. Binding is a little weakened but intact. (See photos).
Numismatic Chronicle: this is the first great general work on Islamic coinages. It lists 4,000 coins, all illustrated and at least partially described, representing the Muslim coinages of the Near East (the Caliphates and Successive states), of India (from the Amirs of Sind) and much on the Crusaders and related field.
The present book is but a survey when compared with the many volumes that would be required to compile a detailed catalogue. Attention has been given to selecting material that provides a representative cross-section of Islamic coinage, including both commonly encountered issues and the emissions of minor dynasties whose Emirs only struck a scanty coinage. The coins catalogued here are nearly all published for the first time and although many of the issues are well known there are also a substantial number of new issues as well as some rulers and even dynasties not previously known to have struck coins. Some of the mints represented here are also of interest and a few dates call for minor revisions of existing chronologies. The coins themselves are all in private hands and to this extent the selection of material reflects both the availability of coins and also collectors? preferences. The element of availability is important in so far as it is influenced by the composition of various coin hoards that have come onto the market during recent years. Several such recent hoards have produced a) the Samanid-Ghaznavid multiple dirhems of Northern Afghanistan, b) a series of Timurid - Ak Koyunlu tankahs that includes many countermarked specimens, c) a series of late Urtukid silver dirhems, d) a series of silver tankahs of the earlier Bengal Sultans. A number of these classes of coin, particularly those in the first three groups, were poorly represented in most of the major Catalogues of Islamic coinage. On the other hand inspection of Museum Catalogues most of which were compiled several decades ago, provides a somewhat different spectrum of coinage reflecting the coin hoards and collecting preferences of earlier years.
Weight: 2.800 kg. (packaging included)
Combined shipping
After registration (Important) the system automatically calculates the thickness and weight of every letter and gives you the rate for your Country. (If the combined order becomes to thick or heavy for a registered letter by PostNL, you automaticly see the rate for a parcel in your shoppingcart.)
Shipping is based on a 2 kg registered letter/parcel by PostNL, up to 2 kg no extra shipping costs if the books fit in the same letter/parcel.
Europe only: If its cheaper, we ship with DPD parcels (A 10 kg parcel often costs a few Euros more as a 2 kg parcel by PostNL, the standard shipping company)  you will get a refund if you paid to much postage!
Shipping Refunds will be given by Bank or PayPal (The system cann't do this automatcally). Look for details under Shipping & Delivery in the Top Bar.
Combined shipping rules:
You have to combine all your purchases in one order, otherwise the system will see the purchases as seperate orders and start again with the basic rate for a 2 kg registered letter/parcel.
If you accidentally place more orders, we will recalculate the postage and give you a refund. We always ship for the lowest possible costs!
We ship Worldwide, if you cann't register or place your order, please contact us by e-mail:  decazo1@hotmail.com