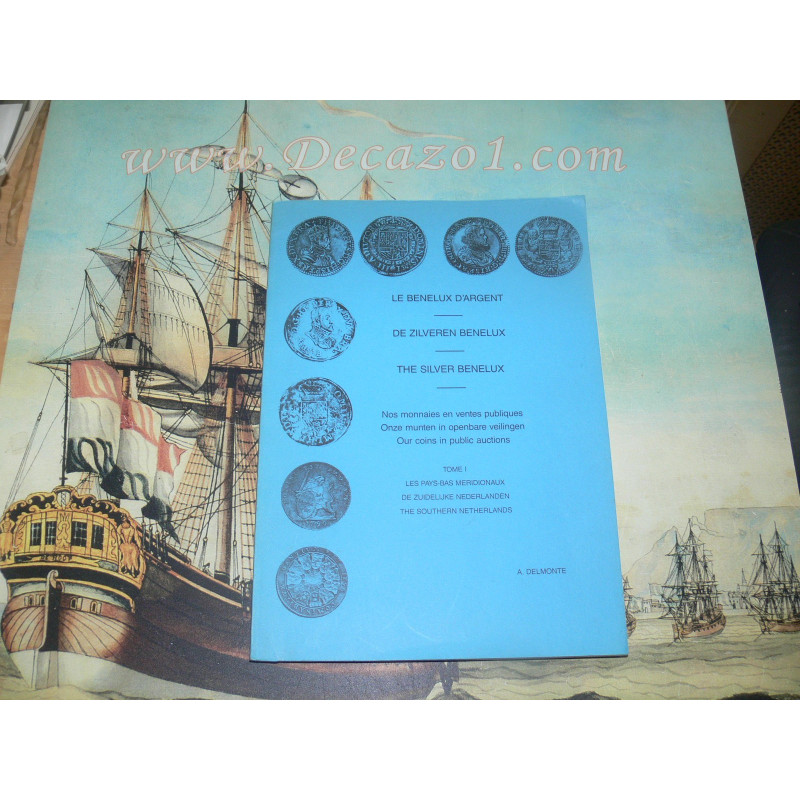  
Delmonte, A. - DE ZILVEREN BENELUX. TOME I Southern Netherlands. Realized Prices in Auctions..
A. Delmonte
DE ZILVEREN BENELUX
Onze munten in openbare veilingen, TOME I.
Delmonte, Brussel, 1985, 74 pages, Softcover, illustrations in text.
as New. See photos.
Opbrengst prijzen van munten van:  
De Zuidelijke Nederlanden.
Realised prices of our coins in public auctions:
Les Pays-Bas méridionaux.
The Southern NetherlandsFor Condition, Index, and more details see photos.
Security policy (edit with Customer reassurance module)

Delivery policy (edit with Customer reassurance module)

Return policy (edit with Customer reassurance module)
Delmonte: Le Benelux d'argent/De Zilveren Benelux/ The Silver Benelux: Tome I Les Pays-Bas meridionaux/De Zuidelijke Nederlanden/The Southern Netherlands
74 typewritten leaves, many black-and-white illustrations of coins on every leaf, blue card covers, quarto, Fine. This work is a supplement to the 1967 Le Benelux d'argent/De Zilveren Benelux/The Silver Benelux with updated valuations.
Weight: 0.610 kg (packaging included)
Combined shipping
After registration (Important) the system automatically calculates the thickness and weight of every letter and gives you the rate for your Country. (If the combined order becomes to thick or heavy for a registered letter by PostNL, you automaticly see the rate for a parcel in your shoppingcart.)
Shipping is based on a 2 kg registered letter/parcel by PostNL, up to 2 kg no extra shipping costs if the books fit in the same letter/parcel.
Europe only: If its cheaper, we ship with DPD parcels (A 10 kg parcel often costs a few Euros more as a 2 kg parcel by PostNL, the standard shipping company)  you will get a refund if you paid to much postage!
Shipping Refunds will be given by Bank or PayPal (The system cann't do this automatcally). Look for details under Shipping & Delivery in the Top Bar.
Combined shipping rules:
You have to combine all your purchases in one order, otherwise the system will see the purchases as seperate orders and start again with the basic rate for a 2 kg registered letter/parcel.
If you accidentally place more orders, we will recalculate the postage and give you a refund. We always ship for the lowest possible costs!
We ship Worldwide, if you cann't register or place your order, please contact us by e-mail:  decazo1@hotmail.com