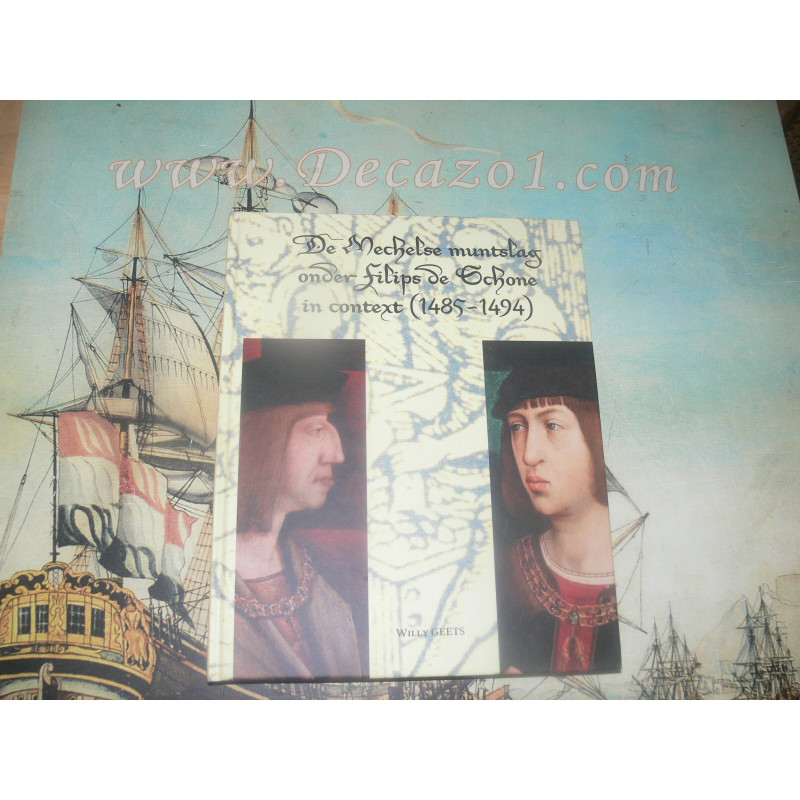  
Geets, W. De Mechelse muntslag onder Filips de Schone in context (1485-1494) ISBN- 978-90-822-1961-6
 W. Geets
De Mechelse muntslag onder Filips de Schone in context (1485-1494),
BoekenGilde BV (NL), uitgegeven in eigen beheer, 2017. Hard cover, 166 p., illustrated. Limited edition.
ISBN 978 90 822 1961 6.
For Condition, Index, and more details see photos.

Security policy
Decazo1 uses only functional & analytical cookies to navigate and improve the website.

Delivery policy
Items are shipped by PostNL or DPD with tracking or drop-off with signature.

Return policy
After delivery, 30 days (send email first) by registered mail. More Info in Shipping & Delivery
This book is intended not only to present the historical context and the full description of the coins struck in the mint of Mechelen during the minority of Philip the Fair, but also to give the full texts of the transcriptions of the corresponding  four mintmaster accounts. The examination of these accounts led to new data and insights with regard to the coins. Moreover, we have, besides the pure display of the transcripts, sought to give the story behind the figures.
This work the foundation of which was layed out in a previously published article by W. Geets, cfr. Yearbook EGMP 2016, seeks to show the broader context of the coinage in Mechelen for Brabant and Gelderland, during the minority of Philip the Fair, including additions and corrections.
We hope that the present book draws the interest of not only the amateurs of local history but also of numismatists, collectors, monetary historians and economists.
Weight: 1.050 kg. (packaging included)
Combined shipping
After registration (Important) the system automatically calculates the thickness and weight of every letter and gives you the rate for your Country. (If the combined order becomes to thick or heavy for a registered letter by PostNL, you automaticly see the rate for a parcel in your shoppingcart.)
Shipping is based on a 2 kg registered letter/parcel by PostNL, up to 2 kg no extra shipping costs if the books fit in the same letter/parcel.
Europe only: If its cheaper, we ship with DPD parcels (A 10 kg parcel often costs a few Euros more as a 2 kg parcel by PostNL, the standard shipping company)  you will get a refund if you paid to much postage!
Shipping Refunds will be given by Bank or PayPal (The system cann't do this automatcally). Look for details under Shipping & Delivery in the Top Bar.
Combined shipping rules:
You have to combine all your purchases in one order, otherwise the system will see the purchases as seperate orders and start again with the basic rate for a 2 kg registered letter/parcel.
If you accidentally place more orders, we will recalculate the postage and give you a refund. We always ship for the lowest possible costs!
We ship Worldwide, if you cann't register or place your order, please contact us by e-mail:  decazo1@hotmail.com