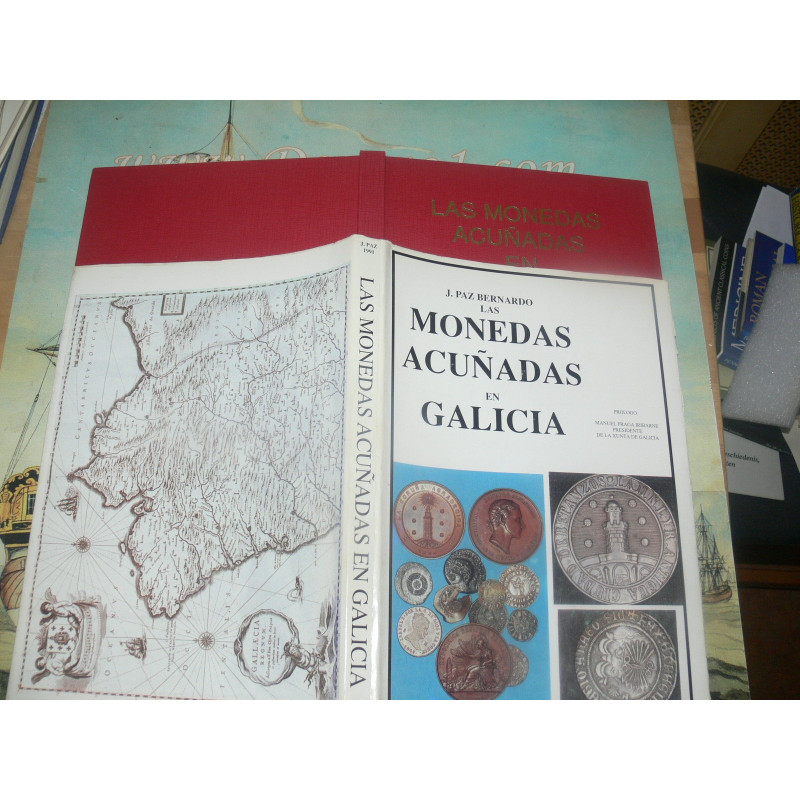  
Paz Bernardo - Las monedas acuñadas en Galicia - Coins minted in Galicia (Northern Spain)
J. Paz Bernardo
Las monedas acuñadas en Galicia
Coins minted in Galicia (Northern Spain)
FILABO S.A., Barcelona. 1991. Hardcover First Edition. 144 p., 215 Illustrations in text. Spanish Text!
For Condition, Index, and more details see photos.
Security policy (edit with Customer reassurance module)

Delivery policy (edit with Customer reassurance module)

Return policy (edit with Customer reassurance module)
Contents

The circulation of currency in Galicia throughout history, from the pre-Roman non-monetary stage to the present, it provides relevant data on the history and activity of located in Lugo, Ourense, Tui, Valdeorras, Santiago de Compostela, Coruña, Xuvia and others, and addresses various types of monetary issues related to Galicia, such as the English in the name of Queen Anne minted with metals requisitioned in Vigo or those made by Galician spas or entities such as the Festa da Istoria, in Ribadavia, or Bemposta, in Ourense.
In its final pages is added an annex of Galician numismatic lexicon and a collection of Galician sayings based on currency and money.
Weight: 0.530 kg. (packaging included)
Combined shipping
After registration (Important) the system automatically calculates the thickness and weight of every letter and gives you the rate for your Country. (If the combined order becomes to thick or heavy for a registered letter by PostNL, you automaticly see the rate for a parcel in your shoppingcart.)
Shipping is based on a 2 kg registered letter/parcel by PostNL, up to 2 kg no extra shipping costs if the books fit in the same letter/parcel.
Europe only: If its cheaper, we ship with DPD parcels (A 10 kg parcel often costs a few Euros more as a 2 kg parcel by PostNL, the standard shipping company)  you will get a refund if you paid to much postage!
Shipping Refunds will be given by Bank or PayPal (The system cann't do this automatcally). Look for details under Shipping & Delivery in the Top Bar.
Combined shipping rules:
You have to combine all your purchases in one order, otherwise the system will see the purchases as seperate orders and start again with the basic rate for a 2 kg registered letter/parcel.
If you accidentally place more orders, we will recalculate the postage and give you a refund. We always ship for the lowest possible costs!
We ship Worldwide, if you cann't register or place your order, please contact us by e-mail:  decazo1@hotmail.com