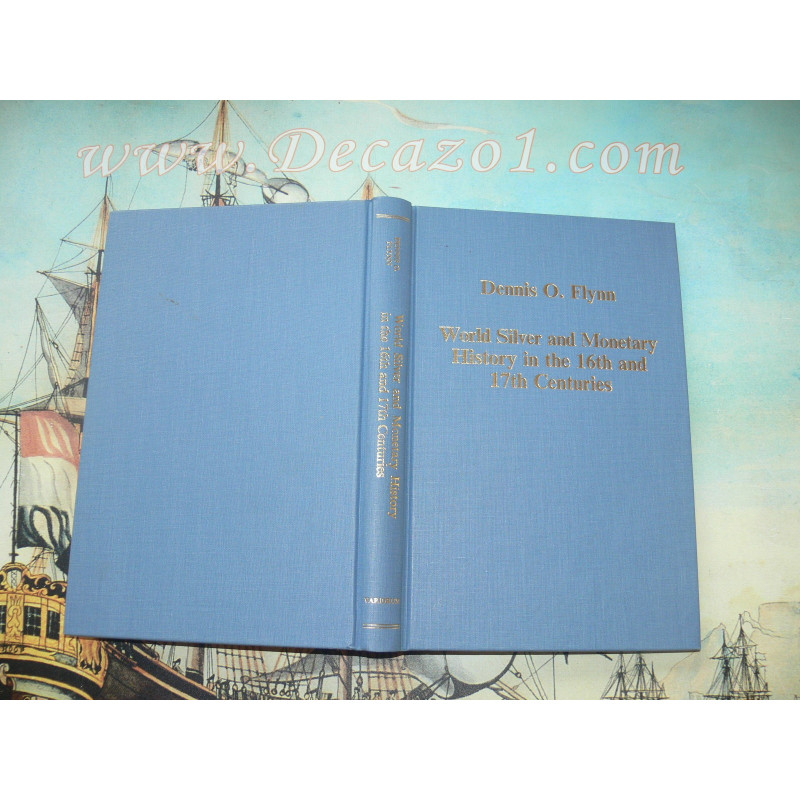  
Flynn, Dennis O.: World Silver and Monetary History in the 16th and 17th Centuries
Dennis O. Flynn (Author) , University of the Pacific, California, USA
World Silver and Monetary History in the 16th and 17th Centuries
Variorum, 1996, Hardcover: 320 pp. Collected Studies  537. Language: English
For Condition, Index, and more details see photos.

Security policy
Decazo1 uses only functional & analytical cookies to navigate and improve the website.

Delivery policy
Items are shipped by PostNL or DPD with tracking or drop-off with signature.

Return policy
After delivery, 30 days (send email first) by registered mail. More Info in Shipping & Delivery
This collection reflects the evolution of a revisionist argument. The price revolution was indeed a monetary phenomenon, but Professor Flynn's position is not based upon mainstream monetary theory. Silver mines financed the Spanish Empire and Japan's consolidation. Ming China was the world's primary silver customer; Europeans acted as middlemen globally, including massive trade over the Pacific via Manila. American mines nearly led to the destruction of nascent capitalism in Europe (reverse of arguments by Hamilton, Keynes, Wallerstein and others). Silver-market disequilibrium caused silver's gravitation toward China; bullion did not flow to Asia due to European trade deficits. Such conclusions stem from application of the Doherty-Flynn model developed in the mid-1980s. Economic theory is normally applied to economic history; in contrast, development of the Doherty-Flynn model was a response to inadequate conventional theory. Theory emerged from history; its application back to history yields startling historical reinterpretations.
Contents: Introduction; A new perspective on the Spanish price revolution: the monetary approach to the balance of payments; Gresham's Law and the modern theory of the demand for money; The 'population thesis' view of inflation versus economics and history; Use and misuse of the quantity theory of money in early modern historiography; A microeconomic quantity theory of money and the price revolution; Final remarks on the Keio University conference on monetary history; A model of minting and melting of coins; Spanish-American silver and world markets in the 16th century; Fiscal crisis and the decline of Spain (Castile); Social returns to empire: a note; Early capitalism despite New World bullion: an anti-Wallerstein interpretation of imperial Spain; The microeconomics of silver and east–west trade in the early modern period; Review of 'Spenders and Hoarders: The World Distribution of Spanish-American silver, 1550–1750'; Comparing the Tokugawa Shogunate with Hapsburg Spain: two silver-based empires in a global setting; China and the Manila galleons; Index.
Weight: 0.610 kg (packaging included)
Combined shipping
After registration (Important) the system automatically calculates the thickness and weight of every letter and gives you the rate for your Country. (If the combined order becomes to thick or heavy for a registered letter by PostNL, you automaticly see the rate for a parcel in your shoppingcart.)
Shipping is based on a 2 kg registered letter/parcel by PostNL, up to 2 kg no extra shipping costs if the books fit in the same letter/parcel.
Europe only: If its cheaper, we ship with DPD parcels (A 10 kg parcel often costs a few Euros more as a 2 kg parcel by PostNL, the standard shipping company)  you will get a refund if you paid to much postage!
Shipping Refunds will be given by Bank or PayPal (The system cann't do this automatcally). Look for details under Shipping & Delivery in the Top Bar.
Combined shipping rules:
You have to combine all your purchases in one order, otherwise the system will see the purchases as seperate orders and start again with the basic rate for a 2 kg registered letter/parcel.
If you accidentally place more orders, we will recalculate the postage and give you a refund. We always ship for the lowest possible costs!
We ship Worldwide, if you cann't register or place your order, please contact us by e-mail:  decazo1@hotmail.com